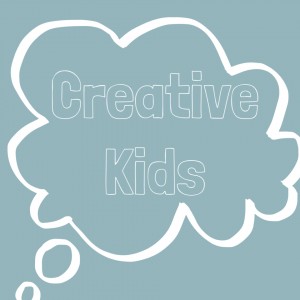 This week, I can take no responsibility for the beautiful creations my children present, in our Creative Kids post.
Big Girl's contribution is a picture frame she made at school. I can say that I did help, with this, because she actually made it, with the rest of her class, with me, during my weekly afternoon stint when I help in her class. The teacher clearly has a warped sense of humour putting me in charge of a group of children brandishing glue and sequins, but we survived and the results were beautiful (even if one little boy got so excited, he accidentally drooped a large jar of sequins, not realising the lid wasn't secure. It rained sequins, and I can tell you that it took A LONG time to pick them all up, fortunately the children thought it was terribly funny and all helped!)
Balsa wood, with a card backing, and a picture the children drew, then liberally decorated with sequins and all manner of glittery things. This was Big Girl's artistic attempt. They had to draw a favourite movie character.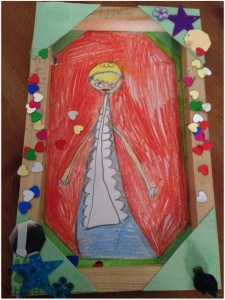 Little Man made a snake sock, at nursery. It's called Freddie, apparently (don't ask me, that's it's name)
Take a sock, decorate it with maker pens, fill it with rice or lentils, tie a rubber band around the middle, then staple a paper tongue shape in the end of the sock that is open and you have a sock snake….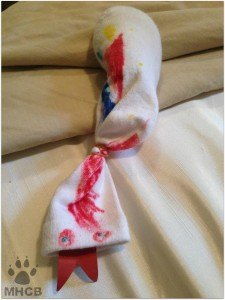 Pretty simple, but effective crafts, for kids. I particularly like the expression on the snake's face….