This week, one of the mum's in Little Man's nursery, organised for all the nursery children, and the reception class, to take turns to visit our local Fire Station. I went with them, as a helper (and possibly because I might also like fire engines…)
We walked all the way there, and then spent in the Fire Station. The children thoroughly enjoyed climbing in and out of the real fire engines, and trying the sirens, and trying on some of the gear that the firemen use, when they are dealing with an emergency, and they even got to try out the hoses the firemen use, and some of us were very lucky not to get sopping wet.
As you can see, Little Man had a brilliant time, although he did get quite distressed at the siren going off, when they were showing us what it sounded like, but he soon calmed down. I don't like the noise either, so get how he feels.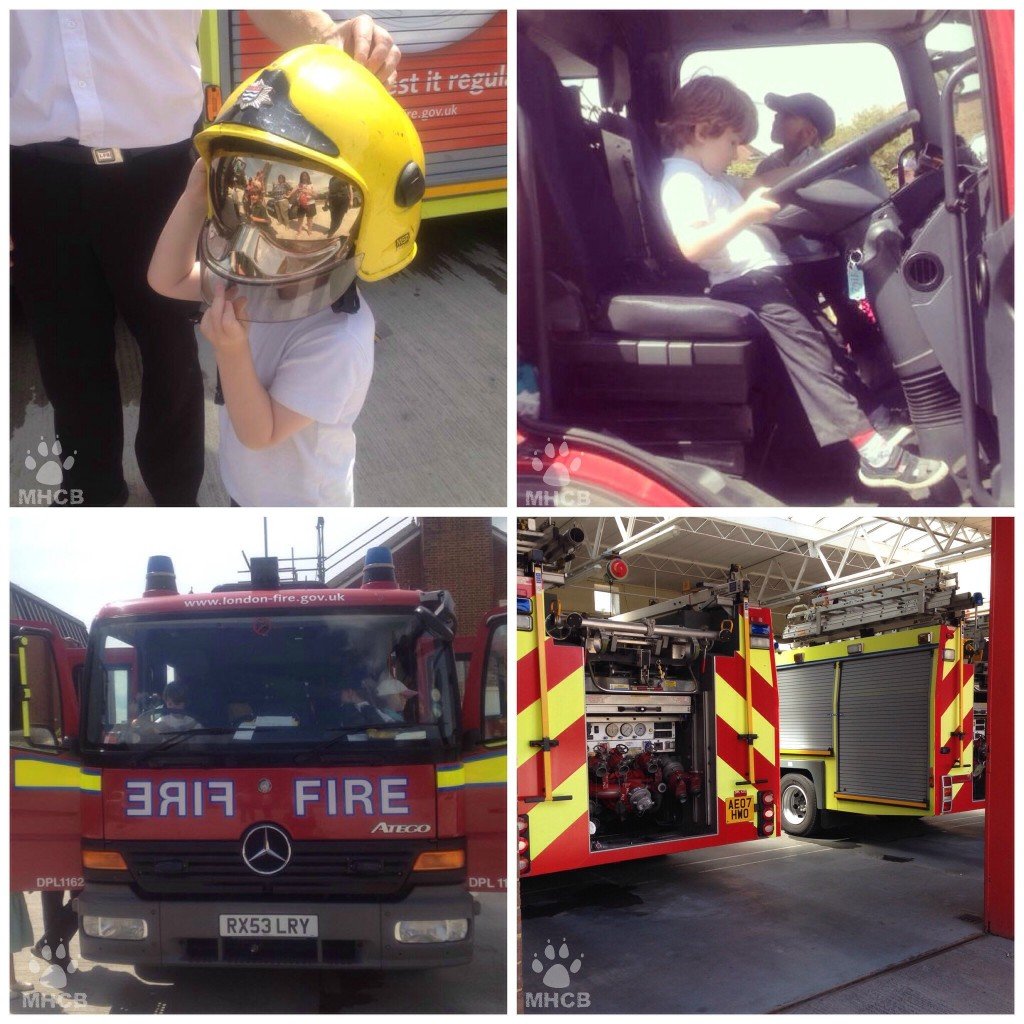 It was also educational, mainly for the adults supervising the children, because the firemen reminded us all about making sure we have working, regularly tested smoke alarms in our homes and to talk to our children about what to do in an emergency, and also to think about an escape plan. I didn't know that you could organise a free fire safety visit, to get someone to come to your house and help you plan an escape route, check your smoke alarms and help you with any thing that might be a fire hazard or risk. You can also get free fire alarms, if you cannot afford to buy one. We are pretty organised, with our smoke detectors, but LSH and I do need to plan an escape route, if we ever needed to leave our house, in an emergency, such as a fire. We have had to evacuate the house, once. Last year, our neighbour had a minor gas leak, but I could smell gas very strongly and didn't know where it's source was, and I have to say, the children were very calm, and listened when I told them to leave the house, and we sat in the car, across the road, until the gas engineer came to deal with the leak, but I do want to remind them of what to do, and what not to do.
So, it was a fun and useful day out. Little Man has not stopped talking about the visit, and we really enjoyed it. Thank you to the team at Kingston Upon Thames for allowing us to come and visit!