Welcome to our week in photos. Usually a rather ecclectic collection of snapshots from our week via Instagram and our Facebook page.
This week, we have had some fun, some happy times, and a trip to A&E. It's been a bit crazier than usual but there is always chocolate, and coffee and the odd cat photo thrown in.
Little Man fell, whilst doing his usual speed racer act, in the nursery playground and needed a trip to A&E to get his head checked out and a rather large cut glued so it would heal nicely. He was very brave. He was more upset that he missed "show and tell" at nursery, than anything else. He's on the mend, and apart from a bruise and the cut, is back to his normal no fear, climb, jump, bounce self.
I also got the MRI scan back on my knee, and although I haven't read a scan for a few years, think I can see the damaged area. I see the "knee specialist" on Monday and we see where we go from there.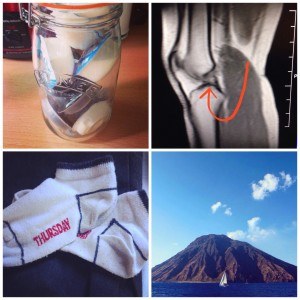 We had a lovely day out with Long Suffering Granddad (aka my Dad) and his partner, in London, at the Transport Museum, I am not sure who was more tired at the end of the day, the adults or the kids. We had an inset day, so thought a trip to London was the best way to spend it.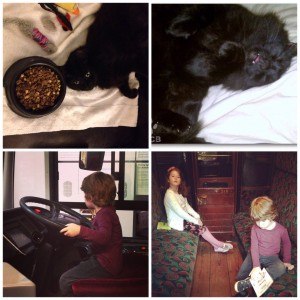 It was also a certain grumpy cat's birthday this week. Much fuss, which she ungraciously accepted, and a can of tuna, which was more graciously accepted.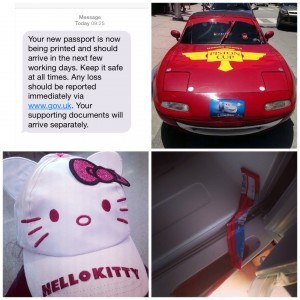 And of course the usual collection of food photos, and random bits and pieces. Lightening McQueen car's from Uncle James in Miami, Hello Kitty hats, squished smoothies (those tubes EXPLODE when you shut them in fridge doors by the way!)  Oh yes, and my passport is on it's way and we have been told the children's passports should be with us soon, so a big sigh of relief all round and jokes about me smuggling myself into France under the car can stop now! 😉
What we blogged about this week:

I'm going to climb a volcano for my 40th birthday, mad I know.
A great site I have found for days out
Creative Kids – a trip to the Fire station
Layla had a rant, in honour of her birthday, for Ranty Friday
We also link up with some lovely blogs to share our weekly photos….