I cannot be the only person I know with a slight hairdresser phobia? I can't seem to find someone to solve my bad hair day… I need help!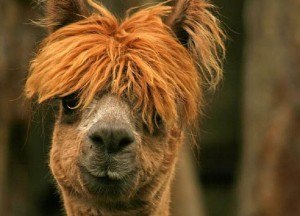 (Ok, so that is not me, but I feel like that, at the moment)
My lovely hairdresser, with whom I entrusted my wild, often hard to manage locks to, for three years, left me. He has opened a salon in Bangkok, of all places, which will be handy when we go to Thailand to visit my dad, this Christmas, but has put me in rather a tight spot. You see, I am HORRIBLY FUSSY about who does my hair. I have a real thing about going into hair salons, feeling anxious and worried about what exactly they are going to do to my mane, and what it will look like once they have dealt with it and also whether I will have the skills or energy to maintain the style they have given me, once I leave the salon.
I hate sitting in the chair, with my cup of tea (my hairdresser used to serve wine after 1pm, another reason I liked going there) discussing what needs to be done to my hair, it can be a scary moment. One of my favourite scenes from the movie The Princess Diaries, is  where Paolo the Royal Make over expert is about to re style her hair, partly because it is funny, and also because THAT'S ME! I have had countless hair stylists and hair dressers say to me over the years "you have  LOT of hair, it's so THICK!" and look at me rather despairingly.
Since Paul, the man who made my hair manageable, left, I must confess, I have not had a hair cut. That's almost 3 years ago. I cut my own fringe, and that's about as good as it gets.
I need to woman up, and find a new salon, to get this mop of mine dealt with.
I hate going into new places and having people I don't know, look at my hair. I particularly don't like it when the person doing my hair, probably wasn't born before I left school, and makes me feel ancient, frumpy and that my hair is really a hideous thing, and they have better things to be doing. It drives me crazy when a potential new stylist, despite being told "I Don't want layers, it makes my head look like a triangle, and DOES NOT control the frizz or thickness and no I don't want colour or highlights, just a manageable hair cut" suggests layers or colour. I just want a tidy, easy to manage style, that doesn't take hours of effort in the morning, and doesn't need lots of products to tame it. It's my hair, I know layers won't help, I have been down that road more often than I care to remember.
I have done short, I have done bald (shaved my head, that's a story for another day) I have done long, I have done the rainbow hair colour thing, changing my colour more often than the children I nannied for could keep up with, in fact they used to place bets as to what colour my hair would be, when I arrived for work on  a Monday morning) and I have done layers, perms, straitening, braids, updo's and the like.
I just want my hair to look nice. I surely can't be alone, in my quest to find a nice, not too trendy so I don't feel like a middle aged frump, salon, with someone who can work miracles with my hair?
Am I asking too much? Am I alone in hair misery? Next week, I have to see if I can find someone to do something with my hair, before we go on holiday. Wish me luck, or send me the name of your hair salon….