Welcome to my weekly weight loss link up, Get Fit Mummy. Sharing how I am doing, and also a link up for anyone wanting to share their fitness goals, achievements or weight loss updates. It's called Get Fit Mummy, but you don't have to be a Mummy to join, anyone is welcome…

This week, I have had some interesting news, which would make my knee injury a blessing in disguise. I can't fully elaborate on it, just yet, but if what two different health professionals are suggesting, it might make a difference to certain things in my life, that can only be good. However, I did see a very nice physiotherapist, at a clinic this week, to start an intensive programme of rehabilitation, for the knee, hopefully to try and prevent me needing an operation to repair the damaged cartilage and other issues. I am now on a weekly regime of exercises (a bouncy ball, a roller and stretch bands are my new friends, and he told me my shoes were in bad shape, so I am off to get some more supportive ones) a visit to the physio gym, to use the cycling and rowing machine, and I am allowed to swim, gently. NO running, for the foreseeable future, which makes me sad, but I need to make my knee a priority, so I am doing as I am told. The exercises are painful, in a good way, and I can feel that they are helping other areas of my body, too, so it can't be a bad thing. We do this for 6 weeks, then we see what the knee specialist thinks, and go from there, either to surgery and more rehabilitation, or carry on with intensive physiotherapy. The knee is currently taped, to hold it in the correct position, which looks strange, but apparently is very effective.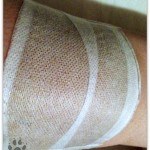 (hmm, so glamorous, maker pen, tape and skin glue, it's a hot new look…) 
I have managed to loose 1.5lb since my last weigh in. I am still trying to reduce the processed carbs and sugar, which seems an effective way of cleaning up my diet, and also plan to do two days of 5:2 this coming week. Next week we are off on our holidays, to France, I am not sure how much healthy eating will happen, I am hoping to try not to just let it all go and undo my good work.
Thank you to MJ from FabHauteMama and also to Joanna from Coming from Carson's Mummy for linking up and sharing how they are doing. Sorry I took a while to get back you, our computer is not working well at the moment, it's taking me longer to blog on my iPad and read and respond to comments.
 Feel free to add your blog post, if you would like to share how you are doing, and spread the word, so we can all motivate each other. Next week, I have a review of a detox tea, and hopefully a good weight loss update. Hobbles off to do daily knee "torture"…