Welcome to my Friday's Rants from the Soap Box in my Living Room. A small space in the week where I can have a chunter about things that have made me twitch with annoyance or made me question if the world has gone mad or not….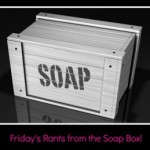 My Friday Rant this week is about supermarkets and how they are pretty much taking over, or so it seems to me, the local shops and any opportunity to move into an area, needed or not.
I am very fortunate to live in an amazing area, and in our area, we have a small parade of local shops. Most of these shops are small businesses, self owned, some are family run, by several generations. We have a local butcher, a local greengrocer, a local delicatessen, a newsagents, a bakery, and a mini supermarket, run by a family who live in Ham. We also, until recently, had a small branch of Barclay's.
Unfortunately, Barclay's has decided to close the bank, and remove the one cash machine, in the area. Not only this, but the building has now been leased by Sainsbury's and they are going to open one of their express supermarkets, on our parade of shops.
I don't have an issue with supermarkets, for general shopping, I am not the biggest fan of them, I prefer to get my groceries on-line and have been buying  our fruit & veg from the greengrocers locally for years, and order my meat online from farm shop but I am horrified, as are the majority of local residents and business owners, who don't feel that a supermarket on Ham Parade is what is needed or wanted but local views seem to have been ignored. I don't think anyone can claim "but we don't have a decent shop, for miles, getting to a supermarket is a nightmare…"
We now have a large Sainsbury's less than two miles from our house, a small Tesco less than  half a mile away, a Tesco Metro in Richmond, 2 miles away, plus a Sainsbury's Local, then another larger Sainsbury's 3.5 miles away, there is a Sainsbury's in Kingston town centre, a Tesco Express at Kingston station, and a Sainsbury's Local at Norbiton Station, those are just the ones local ish to me, there are several others. It seems to me, like some sort of plague, that as soon as a building or property becomes empty, a supermarket moves in. A local cafe, in Kew, became a Tesco express, a pub in Twickenham, now a Tesco.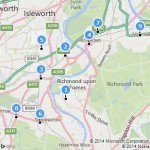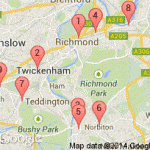 You can see from these maps, how many supermarkets we have, in a relatively small, urban, easy to access area. Really? Do we need all of these supermarkets?
We have signed petitions, campaigned, asked for alternative solutions to the building of a Sainsbury's, in our local parade of shops, local councillors, MP's and celebrities, as well as many business owners and residents have petitions against it, but the powers that be (aka Richmond Council) have decided that this is a done deal and we are stuck with it.
Local business will suffer, the traffic will increase, and frankly, as we don't live in the middle of nowhere, I fail to see how adding another supermarket to our area will bring any benefit other than profit to Sainsbury's. If like Tesco, they charge more, for products as they do, in their "local" and "express" stores, it's hardly going to be money saving.
Maybe I am wrong? Maybe all these mini supermarkets, sucking the life out of the local shops and business are what people really want? It just seems sad to me, that as soon as a business closes a supermarket jumps in to fill the space… Do we really need another one, near us, I don't think so. What do you think?