I thought, that sending Little Man off into the big wide world of school, doing the whole starting school thing, second time round, would be easier. Nope, it's not.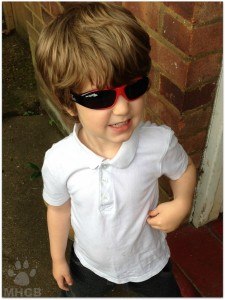 Little Man had his "induction day" at school today. He spent some time in his new Reception classroom, with the teacher and classroom assistant that will be in charge from September. As I am still not totally convinced that full time school is the best option for him, and we are still negotiating as to how that will work out, it's been a bit of an emotional journey for me. He has come so far, in the past year, since his grommet surgery, and bounced off into his new classroom, yesterday, leading the way, having been up since 5:45am, excitedly demanding "is it time to go to school yet?"
He didn't look back, cry, cling or even seem to miss me. He was pleased to see me, when I came back,  but I generally get the impression that he would have happily stayed longer, if I had not come to collect him at the allotted time.
My impressions of his morning were:
"I like my teacher, she helped me paint a picture, and we planted a sunflower seed, she read us a book, about elephant poo and a hyena…" (I am going to ask about that one, I want to know what this book is, it sounds very funny!) and that he is happy some of his mates from nursery will be joining him next term and that "there's a HOOOGE sandpit and a car track" and "they have 4 iPads Mummy".
I am delighted. As much as I am apprehensive about full time school (Big Girl did not go to school full time until her second term in reception, they have changed this since she started) and he feels  so little to me, to be trotting off into a classroom, I would not have it any other way. I want him to be happy, it makes me proud and pleased to see him so confident and calm. I would much rather have him go in, not look back, and not be sad at leaving me, and enjoy going to school.
All the parents, both first timers, and those who have done this before, with other children, all went down to the hall, and had coffee and a chat, whilst our children explored their new class and met new friends. We all chatted and of course, I pretended to be all cool, calm and "oh, this school thing is a piece of cake, been there, done that, not going to get all teary". Inside I was wondering how he was getting on and hoping he was OK. Of course he was.
I may look fine on the outside, but I will secretly be a mess inside, in September, and yes, I will probably shed a tear or two, when no one is looking. My little boy is growing up.
Nope, it's not easier second time round, even if I pretend on the outside, that it is!