So, if you follow this blog, you will no doubt be aware that we have had some mild anxiety about our children's passports arriving in good time, for our holiday. At one point, they were sitting in the enormous pile of back logged passports that you may have seen on the news, but after much stalking and harassing of Her Majesty's passport office, they arrived this week. We may have done a dance for joy, shared widely with social media, and then put them in a safe place but not before I took this photo…
Yes, we are very happy to have our passports. See if you can come up with a caption for it…?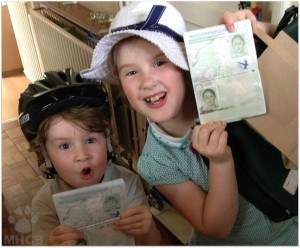 The head on over to Kiddy Charts, where Sat Cap is being hosted this week, and see what other witty photos are being shared.