If you are a regular reader of this blog, you will know I have a bit of a hobby/fascination with volcanos. I have written about my love of all things volcanic and of my plan to climb an active volcano for my 40th birthday in 2 years time. Today, we were lucky enough to be able visit an extinct but still very beautiful volcano here, in France.
Before we left for our holiday, we did a little reading of what to do in the area, where we were going to be staying, and I was very excited to discover that we were staying near what is designated as a Volcanic National Park, and that in the middle is a rather splendid looking, extinct volcano, surrounded by craters from other volcanos that have also long since stopped erupting. This was a place to go and visit.
So we did. We drove from where we are staying, accross the valley, took a train up the side of the volcano (you can walk, but it's not a gentle hill at 1400+ feet and we didn't think my knee or the children would cope) and then explored the top, admired the amazing views, found some pumice, took lots of photos, and had a picnic overlooking the edge of a crater, watching people hanggldiing off the side of the volcano (one day, I might try that too 😉 )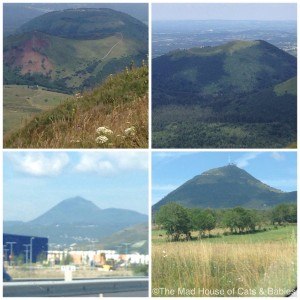 It's hard to believe, especially when we were down at the bottom after the train descent, that we were actually at the top of that peak, looking down over the whole valley.
Little Man was a tad concerned "is the volcano really dead, Mummy? It's not going to rupt while we are on it?" and Big Girl had lots of questions on how pumice is formed and about types of volcanic eruptopns. I am training my mini vulcanologists well…
A wonderful day out, educational, interesting and scenic, and also very well organised and reasonably priced. I would definately say if you come to this area of France even if you are not a mad volcano fancier like me, to visit, it was well worth it.