I wasn't going to do a photo week, until we got home from our holiday, but we have SO many lovely photos, I thought it would be nice to share them. I am typing this, whilst sitting outside, in the garden, where we are staying whilst LSH and the children are off on a walk somewhere. My plan is to blog, write and edit for an hour, then make coffee and eat macarons. As you can tell, we are having a tough time on this holiday…
So, our week in photos snapshots from our week from Instagram & Facebook
The trip over was very smooth, we were very impressed with how efficient the Eurotunnel was, and how easy the bit from England to France was (I must admit I was trying not to think too hard about being under the sea, in a tunnel under the ground, but you couldn't really tell and it was very fast)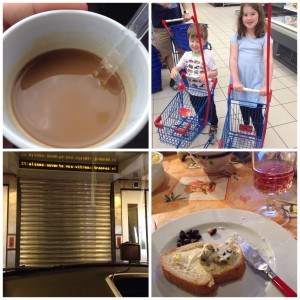 We did hit a slight snag in Paris when the relioable up til that moment Tom-Tom navigation system decided to reboot, announce we had reached our desitination, and stop working, smack bang in the middle of a very busy 4 lane underpass tunnel, with very heavy, fast flwoing traffic, just as we had to decide whether to turn off or not. Cue some fast finger work to reprogramme it and I may have uttered a few less than polite words under my breath as we sped along but other than that, it was a smooth trip. French motor way service station coffee is as lethal as I remember.
We arrived, to a warm welcome, and have settled in, and made friends with both some human and animal residents. Little Man has fallen in love with the chickens Henny & Penny, and we take our food scraps to feed them, daily, much to his delight. I am working on persuading LSH that we could keep chickens at home, the persuasion is a work in progress…The whole "our own fresh eggs and they eat all the food scraps thing" is to my advantage. We have enjoyed freshly laid eggs and lots of local cheese and other delights.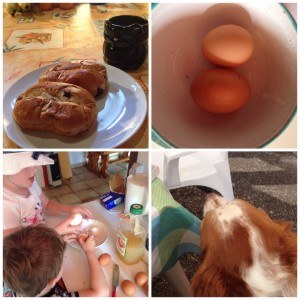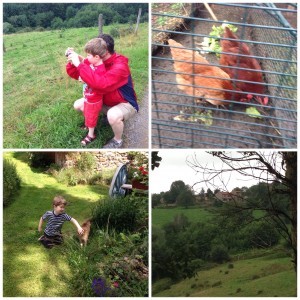 It has taken us a few days to really relax. We are all pretty tired and worn out from "London life" and a two week break is perfect. It's lovely here, very peaceful and quiet, and just out of the way enough for us.
We have managed to cope with supermarket shopping, in fact, I would say, compared to the UK, it is a postiove pleasure shopping at Carrefour (French supermarket) and the prices are very reasonable. I normally hate supermarket shopping but don't mind it here.
Once we had a few days to wind down, we managed to get out and about and explore a bit. We have visited a proper French market in Ambert, and also had a picnic lunch on top of an extinct volcano, as well as managing to find stamps to send postcards.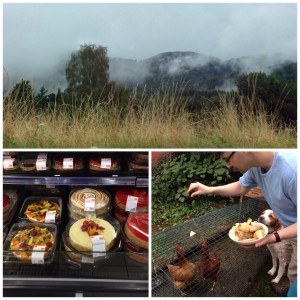 So that's our week so far… We have linked up with some other lovely bloggers to share our photos as well.