We have just come to the end of our first proper family holiday in a long time. We chose to visit a place in the south of France, in the Auvergne region. It was a longer drive, to come to a place in France, than if we had headed to other spots recommended by friends, but it was well worth it.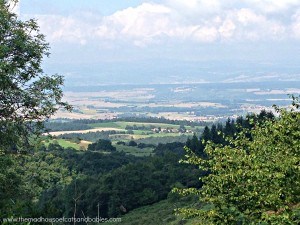 (the view from Les Hirondelles, over the valley. You can't really get more scenic than that!)
We wanted somewhere quiet, but also close enough to a town, for shopping, for when we needed provisions. We also liked the look of the local surrounds, things to do and visit, when we were planning and looking at where to go for our holiday. We prefer self catering, because it's usually easier on the budget, and also more flexible, and we like to come somewhere where we don't have to share a room with the kids, if we can. Them having their own space is much better for all of us.
Les Hirondelles, in Chabanol, is perfect if you are looking for a quiet, peaceful spot. It's in an  incredibly scenic and pretty area, in fact I have had LSH stop the car quite a few times, when he could, safely, on the winding country roads, so I could leap out and take photos of the beautiful views. We had never really considered exploring or staying in the Auvergne Valley region, before, and we are really glad we decided to give it a visit.
It's very quiet, at night, and countryside dark, or proper dark, as I call it. My children were most amused and slightly confused by this, because whilst we live in fairly quiet suburbia, in South West London, it is never fully dark, or really quiet, and I suspect we will be a bit shocked by how noisy 'home' is for a few days, when we return.
You can either stay in bed & breakfast accommodation, or in the Gite, which was an old barn that has been refurbished to accommodate guests. We chose the Gite. It's a big, spacious and airy spot, perfect for children to run around in, and can sleep far more than a family of four. The kitchen is perfect for cooking family meals, and we had plenty of space to ourselves. There is also a lovely terrace to sit on, and a stunning garden to explore. My children have learned a lot about plants, animals, herbs, and wildlife this week, thanks to Christine, who owns and runs Les Hirondelles. She and her husband Geoff, are British, but both speak French, and are very familiar with the local area, which was handy for us, being new to holidaying in France, and they were very helpful with advice on what to do locally, what to see, where to go, what places would be best for the children, where to shop, and what to eat and we have been made to feel very welcome, and hopefully the children were not too noisy. The Gite has all the facilities you need for a family holiday, and there is also a family friendly cat, dog and chickens, which have delighted my animal loving children, who have enjoyed treks to feed and chat to them.
Although Les Hirondelles is not "on the main drag" as my Dad says, it is very easy to get to places you want to visit, close by, or further afield and there is plenty to do, in the area. We visited local French market towns, climbed an extinct volcano, heaved ourselves up a steep hill to visit an ancient French château/castle, and enjoyed some nice walks and scenic drives. On our next visit we plan to do more walking and also to visit the local farm, and explore more. We have been quite tired, so also took time to relax, as well as do outings and days out.
There is also a local outdoor swimming pool and park, in the nearest town, Sauxillanges, which is great if you want to take the kids to swim when the weather is hot, and there is also a lovely local lake, where you can swim, and visit the cafe and have home made mussels and chips (moules-frites) whilst overlooking the lake. So there is plenty to do, for families. There are also lots of local, reasonably priced eating spots, and if you need a supermarket, then the Carrefour in Issoire is perfect, and frankly, I think cheaper than supermarket shopping in the UK, but you can get lots of local cheeses, and fruit, veg and other supplies, locally, as well if you prefer.
We have loved our stay, and are already talking about going back, for another visit.
If you are looking for a place to visit, in France, in this region I would definitely say look Les Hirondelles up. Price-wise, compared to some other places they are very reasonable, and you get really good value for your Euros and it truly is a lovely spot, for a family holiday.
They have a website, in both English and French, here and a Facebook page too.
This area is lovely, very unspoiled and "un touristy" and whilst I wouldn't want it overrun with tourists, I do think it deserves a bit more a profile, and would love to see more visitors from the UK coming to enjoy it here. We are sad to be going home, but hopefully will back back, either in 2015 or 2016…