After some reflection and thought whilst on holiday and a chat with the children, we have come to a deal, with how we will manage our time, in this long summer holiday.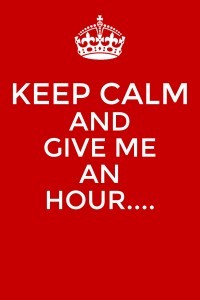 They want to spend time with me. They know that what I do on the blog is becoming more of a job now, and that and the time on social media are part of what I "do" but they also, rightly, want my time and attention. I need to get work done and keep things ticking over, but I also am stuck with the dilemma of how I work, with the children around. They are mostly pretty happy to potter, whilst I am banging away on a blog post, or trying to edit photos, or reply to mail, but they get fed up, after a while. I also want to spend time with them, and don't want to spend the whole holiday trying to juggle stuff and get frustrated.
So, we have struck a deal…
Every day, at a time that fits with what we have planned. I get an hour. They give me an hour of time. We set the timer, and that hour is my time to get what I need to get on the blog done. Checking and responding to mail, editing photos, etc. They have to play, amuse themselves, and entertain themselves or each other. I will make sure they have a snack and if they want to, some activities to do, but they have to leave me in peace, within reason. I am right there, in the living room, or in my room, on the computer, so I am available if they need me, and of course, if there is a problem, I am right there, but if I get my hour of work done, then we have the rest of the day to spend with each other.
So today, we put it into action, and so far, so good. I set the timer and cracked on. They have watched some TV, played with the toy kitchen and done some colouring in so far, and have kept themselves busy, and apart from chatting to me, from where they are, have let me do my work. They are old enough to take part in this kind of thing, obviously I wouldn't do this, if they were younger and needed more supervision and input.
I think it is a really good deal and they seemed to think so too. In fact, I have less than 5 minutes left on the clock, so I had better go, because I know they will hold me to my end of the bargain, and I intend to keep it…
So, what do you do, when you are working from home, and it is holiday time, and you are trying to balance work and the very valid needs of your children? I would love to hear some thoughts.