Yes, this is a blog post about cat litter. Obviously, if you don't have, or ever have any intention of having a cat, then this post wont be that exciting for you, but if you do have a cat, or are getting a cat/kitten any time soon, read on.
Cat litter, for us is a thing we are very picky about, not only are the humans of the house fussy about brand, type and effectiveness, because, well, we are the ones that have to clean the stuff out, but we also have a very picky cat.
Layla, likes being able to go outside, but is getting a bit older, and when it's cold or raining, does not want to be outside especially at night. We also have been away on holiday recently, and I wanted to make sure she had a litter tray, accessible, during that time.
Cat litter needs to be:
easy to use, no fussing or fiddling about with liners or special fresheners
not  too messy (kitty litter on your feet, when it has been spread about the house anyone? Yuck!)
good at absorbing odours and able to stay reasonably fresh when being used
clumpy. Non clumping cat litter makes for smellier cat litter and is also a hassle to scoop when not emptying the whole tray
reasonably priced. Note, that the most expensive cat litter is not always the most effective
dust free. There is nothing worse than pouring cat litter into a tray and enhaling a cloud of particles and dust or trying to clean a litter tray, and knowing there will be dust and particles floating around, even more yuck!
environmentally friendly
non toxic (we have small children around, and yes, one of mine has eaten cat litter, that is another blog post for another time, but safe to say, it was clean, not pooped in, and was non toxic, thankfully and they lived to tell the tale)
The most important thing for me, is that the cats will like and use it. Layla has rejected certain cat litters before, much to my dismay. She is a very picky cat. I guess it's like toilet paper for humans? We like a bit of comfort 😉
We are very happy with our choice of cat litter, at the moment. Maizy cat litter is  made from puffed corn, and is perfect for cat litter trays. I was a little skeptical, at first when I opened the bag and the children said "it's made from sweetcorn, Mummy!" but having used it for a few weeks (well, Layla has used it) we are delighted with it. It seems to absorb really well, and clumps beautifully, which means when we scoop, we can removed the bits that need to be disposed of, and there is miniumal mess. What is great about Maizy is it can be flushed down the toilet, and as we keep Layla's tray in the bathroom, this means I can scoop, plop and flush. No need to bag it and bin it, reducing smell and mess. Much more hygienic.
Layla much to our relief likes Maizy and is happy to use it. Happy cat!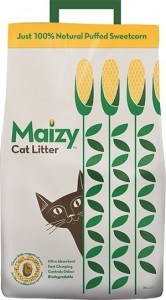 Most importanly of all, is it's odour absorbing qualities.  While we were away, apparently the litter was not stinky at all (according to our cat sitter) and even now, as Layla uses it, seems to be pretty smell free. This is a huge win for us.
It's also pretty economical, a 12 litre bag is £12.99 and I think will last us at least a month to six weeks, which is good for our budget. It also comes in 24 litre bags for £19.99
So, happy cat, and a happy owner. We would definately recommend Maizy if you are looking for a reasonably priced, effective, environmentally friendly cat litter.
Unfortunately, I have no photos of Layla using her litter, she likes her privacy, so you will have to take my word that she likes it… 😉
*we were sent some Maizy cat litter to try, all words and opinions are our own*