Welcome to our week in photos, little snapshots of the fun and chaos, from Facebook and Instagram, sharing what we have been up to this week…
This week has been a bit low key and even a bit disheartening, and I have been a bit grumpy, in fact so haven't really taken many photos or blogged much. A few things have felt quite challenging, after coming back from our glorious holiday.
The knee, is causing me huge issues, and it now looks like I will need surgery, which we were trying to put off for a while, sooner rather than later. It's making life hard, I am in a lot of pain, and not running on full steam, if you will pardon the pun, so I have blogged and shared about it.
But we don't let my knee stop us having fun and we really enjoyed a visit to the Olympic park in London, with Grandad, this week. I had never actually been, it's an interesting place, and there is a lovely play park for the children, which you can see we took advantage of.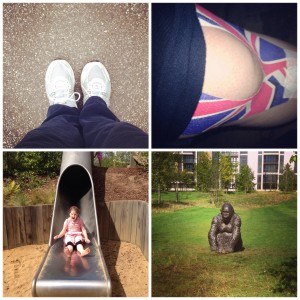 We also  a FABULOUS time at Lollibop, this past weekend, the children had a blast, and the adults enjoyed it too. Seeing Mr Bloom from CBeebies and Alex, and meeting Michaela Strachan, was very exciting.
We had a mouse in the house this week. We came back to find that whilst we had been away, we had a rodent houseguest, so we had to get some special traps to catch it, and apparently they prefer chocolate buttons to cheese, so that's what we used for bait. Much to my relief, and sorry if you are squeamish, but one of the cats got the mice, Layla in fact, so she is now my hero. The thought of mice in the house was making me very stressed, and we are now hoping that's the end of the matter… 🙂 She missed us when we were away and has been very loving, and even tolerating lots of attention from the children, clearly she is trying to be nice to us, to stop us going away again!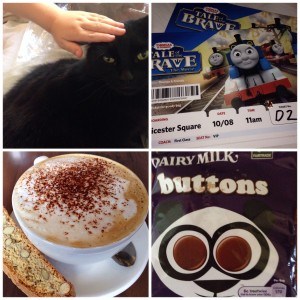 Little Man and LSH also got to go to see Thomas the Brave, in London last Sunday, which they loved.
It's definitely been a mixed week, bits of fun, and things we enjoyed!