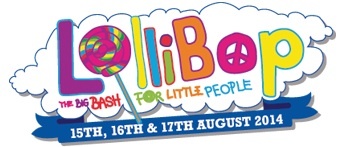 We have never been to a children's festival before, so we were all a BIT excited when we were invited to Lollibop, the big bash, for little people,  this year. When I told the children that some of their favourite CBeebies presenters and characters would be there, they were delighted.
We had orignally planned to go on the Friday, but unfortunately, issues with my knee meant that we had to re arrange our plans. Fortunately, LSH was able to drive us on the Saturday, so we packed ourselves in the car, and off we went…
I must admit I had no idea what to expect, or how big it would be. I did read all about it, before we went, but when we got there we were even more excited, because Chris, one of the presenters from CBeebies walked past our car, and said hello to us, as we were parking. Talk about slightly star struck! 😉
We had fun exploring and there was a LOT to do, and see. Little Man spent at the Thomas & Friends area, and even though there was a queue, insited on waiting, not so patiently, to have a ride on Thomas. We also enjoyed watching the Fat Controller on the stage, whilst we ate our lunch.
We visited the Pirate Training school, and then Little Man and I spent rather a long time in a queue to wait to get into the Lollipalladium tent, to see if we could see Mr Bloom in action. My one criticism of the whole day, would be that the queue for this event and other things happening in that tent, was very long, and a bit chaotic, and whilst I know queuing at a festival for events is normal, it's quite tricky with small children, in hot weather, to have to stand and wait for over an hour. I don't know if there is a better way to organise this particualr event for next time.
We thoroughly enjoyed seeing Mr Bloom in action, so it was worth queueing, and Little Man was totally in awe.. "that's the REAL Mr Bloom, Mummy?" and we all sang along and joined in.
We explored some of the other activities, including the Science Museum area, which Big Girl really liked and my favurite thing was decorating biscuits in the Lollikitchen and meeting Michaela Strachan. The children don't know who she is, as well as I do, but she has been a favourite presenter of mine for a long time, so it was nice to meet her, and say hello. I am showing my age a bit, I know.
The facilities were really good, the toilets were clean, and there were lots of them available, and plenty of options for food and refreshment. LSH and I didn't get to try the adult "creche" area, where there was wine and beer available but maybe we will next year… Most of the activities and areas were well organised and we didn't have to queue for too long. We also loved the face-painting, as you can see from the photos.
We went home, tired but having had a really fun day, and the children are still talking about it. We are already looking forward to next year!