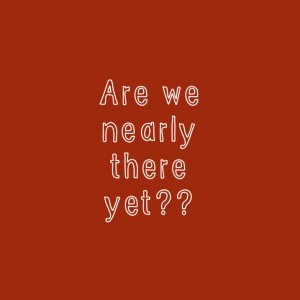 Is a phrase familiar to most parents travelling with children. We have just come back from holiday in France, and we travelled by car, there and back, a long drive, and heard "are we nearly there yet?" a good few times.
Travelling with children can be fun, but also challenging for both parents and the kids. As a child, I flew around the world from an early age, because of my Dad's job, taking us to many different countries. I flew with my parents and alone, and we also spent many hours in the car, driving from England to Scotland, when we were living in the UK, to see my Mother's family. Back then we didn't have iPads, portable DVD players or games systems to keep us entertained. I remember getting my first Walkman at about aged 11 and thinking I was so cool. I know,  I am showing my age. We did a lot of reading, played "I spy".
We knew we would have a long drive there and back to our holiday, and that the children would need things to keep them happy, and also entertained, for a lot of the time. Big Girl is old enough now that she doesn't need constant help with this, but Little Man, being a busy little boy of four, does need a bit more input. We haven't done a long drive, with him, before, so we were a little nervous as to how he and we would cope.
We planned carefully, and found that some of our planning worked well, and for next time there are some things we would do slightly differently.
Snacks and meals:
Having portable, non messy, easy to open, and not requiring to be kept cool snacks are essential for long car journeys, especially if you are not stopping often, or might get stuck in traffic, making your trip longer.
We found that packing things like cereal bars, dried fruit snacks, fruit that can be eaten easily, rice cakes, pouches of fruit, and crisps that are not too salty meant we had a selection of things the kids could eat, easily, with minimum fuss and not too much mess.
Water in easy to open, spill proof drink containers, I don't do juice, in case it spills and makes a mess
On the trip home, we also packed a picnic, because although we planned to stop to eat, we knew we were travelling at peak time, for other holiday makers, and didn't know what the traffic would be like, so anticipated that we might have to let the children eat lunch whilst we were driving or stuck in traffic. We bought some pouches of puréed fruit, and froze them, and used those as portable ice packs, so they kept lunch cool, and then could be eaten afterwards.
Stopping to eat, especially abroad, if you don't know the area you are driving well, or at all, can be expensive and stressful, so we tried to plan ahead a little and see what service stations were available, in the area of France we were driving in.
We also tried to avoid hitting the service station for lunch at peak time, because we knew it would be very busy, but obviously that depends on your journey time, and the needs of the little ones in your car.
If you are travelling with a very little one who will need bottles or food warmed, and you aren't sure if you will be able to heat things, getting a portable bottle/jar warmer to have just in case, or a Thermos of boiling water, and a bowl in case where you stop has no microwave or it's horribly dirty (let's just say I have been there)
Pack the snacks so they are accessible, and pack more than you think you need, just in case.
In car entertainment:
For older kids, like Big Girl, I downloaded some audio books, from authors she liked, to my iPod, for her to listen to. She is able to read, in the car, without being sick, so I packed a couple of new books, for her as well.
Loom bands. I know, I wrote about hating them, but they were very handy in the car, to keep little hands occupied. I put some in a Tupperware for each of them, and the rule was "if it's dropped on the floor, it waits til we stop" so they were careful about not dropping them.
Etch a sketch – I know, very old-fashioned, but easy to use fun and kept them busy for a good hour, taking turns to draw things I asked them to and having a laugh at how funny the drawings looked.
Sticker books, for both and a colouring book and pens in a plastic bag
Games like "I spy" and how many colour cars can you count, or how many animals (once we hit the countryside in France, I think we counted millions of cows) and also spotting letters on car number-plates or finding words in signs. We also did a bit of basic French, pointing out things and naming them in French
Games on the iPad and also music, and headphones for both, for when some quiet time was needed
If all else fails, movies or TV programmes downloaded to the iPad or tablet (just remember if you are downloading from the UK TV channels to check they are fully downloaded before you leave, or you won't be able to download them when abroad, due to licensing rules, we found this out the hard way) iTunes and Netflix do work abroad, if you have fast enough WiFi where you are staying.
Basic things you need in the car:
baby-wipes or wet wipes, for sticky hands, faces, too cool off
A plastic bag taped to the back of the driver and front passenger seat for rubbish, also can be used as a sick bag in an emergency.
Shades for the windows, so if the sun is hot and bright, little faces are protected
Spare change of clothes accessible, if possible, just in case of sickness or accidents.
Portable potty, if your child might need it, and a plastic bag and hand wipes
Ear plugs for Mum or the non driver… (OK, I am only joking, although it might be tempting)
Next time we travel, I will invest in some sort of container or carrier for each of them to contain all their bits & pieces, to stop them spreading all over the car during the journey.
One thing we did find was that leaving as early as possible was helpful, we picked the kids up out of bed, and put them in the car, in pj's, at 5am, and they dozed and slept for the first part of the trip which made it easier. This may not work for all children, but it helped make the journey a little easier on the way there.
If in doubt, sing songs, very loudly, and pack a bottle of wine, for when you arrive… 😉 All journeys have to end, hopefully my tips will be helpful in making yours more bearable.
Do you have any travelling with children tips you would like to add? Feel free to comment. Also you can tweet your tips using #arewenearlythereyet  with Parkdean Holidays on Twitter  too.
Post written in association with Parkdean Holidays. All thoughts and opinions are my own.