Welcome to our week in photos. Little snapshots of our week, from Instagram and Facebook.
This week the children had their first experience of a summer camp, and really enjoyed it. As much as I am loving the summer holidays, the two hours of time to myself each day was very much appreciated and they had great fun, and are already asking to go back next year. They did a lot of crafting, games, stories, and there was a bouncy castle and a water fight day, so they had lots of fun. We also went for a long walk around Richmond with Long Suffering Grandad and his partner, and I am once again reminded of how lovely where we live is and how lucky we are to be able to enjoy it.
So, here goes…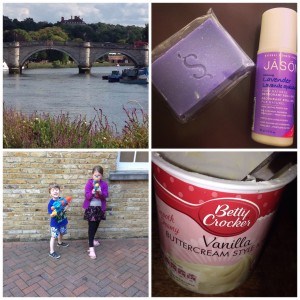 Wet warriors, Richmond Bridge, feeding my addiction to all things lavender scented and I might have needed a spoonful of icing, when we had not such a great day, and a teeny bit of sugar was needed to perk me up 😉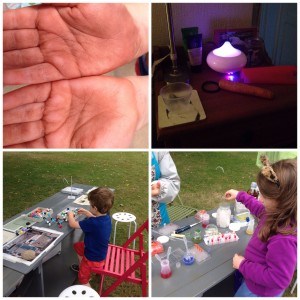 Muddy hands from making clay pots, yes that's a carrot on my dressing table, no, I don't know why it was there. Having fun at a science and plant based activity at Kew Gardens.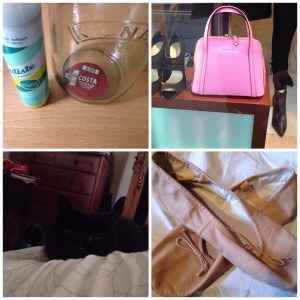 I almost ran out of coffee pods and did run out of dry shampoo, both are essentials in my life, the situation was declared an emergency and soon rectified! Putting away my ballet shoes, no more dancing until the knee is fixed, a pink handbag on my wish list and the obligatory grumpy cat photo, of course…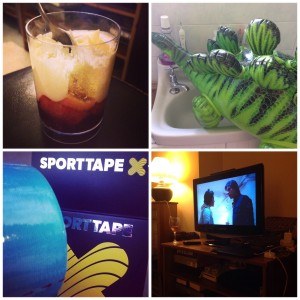 Yes, that is a dinasour in my sink, again, don't ask why, these things are mysterries to me. Berry pudding, whilst watching Star Wars, and some rather trendy tape, to help me support the knee.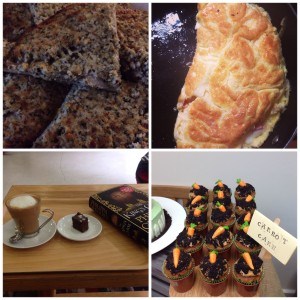 The kids love omelette, I like making them, you can find the recipe here if you would like to try them, and we have had gluten free pizza and some lovely cupcakes at a birthdya party this week and no weekly photo post would be complete without the usual coffee and cake shot…
So that's us. Only one more week of school holidays,  I am reluctantly sorting uniforms and dreading the purchase of school shoes… Have a lovely weekend.