But sometimes I have to or feel I need to. I wrote a while ago, about my decision to stop wearing make up for a month and forgot to update on what happened and what I did at the end of that month.
To be honest, I LOVED and still do love, not wearing make up on my skin. I hate the feel of heavy foundations and creams/powders on my face, and the freedom of not having to put make up on each day was amazing. My skin condition improved, combined with stopping washing my face. I don't feel self conscious woithout a layer of make up on, and to be honest, a lot of the time, it's easier, because in my day job, and as a parent, I don't have time to spend putting on lots of make up, and it all tends to slide off, by the middle of the day, and seems like a pointless exercise.
I now, daily, do not wear make up. I only put it on, for special occasions, like going out for an evening, or meetings where I have to look a bit more polished.
When I do wear make up, I have found something that works for me. It's actually called  "No Foundation, Foundation"… A bit of a strange name, I will admit, and I was skeptical when I first tried it.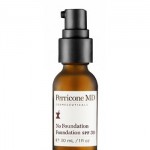 Created to keep skin looking dewy and flawless, this unique formula delivers many benefits of a traditional foundation without the heavy matte finish, which emphasizes the tiniest skin imperfections. No Foundation Foundation is a multi-purpose product that provides natural translucent coverage, corrects skin undertones, instantly smoothes fine lines and boosts skin's natural moisture throughout the day, all the while delivering antioxidant benefits.
Impressive claims, and I am tough to impress. But after applying it, I have to say that it doesn't feel like a heavy, or caked on foundation. It does sit on your skin, but is light enough not to make me feel like I am wearing a mask.
I have a tendency to look a little flushed and red, on my cheeks, and this covers that, or at least blends it out, really well and it definitely gives my skin a boost on days when I am not feeling as young as I wish I once was. I am not convinced it smoothes my fine lines that much, but it does improve the appearacne of my skin, a great deal.
It's an SPF 30 which is important to me, having fair, burns easily skin, and means I don't need to apply another lotion to protect my skin from the elements.
It applies easily, I use a brush, to blend it in, and a little goes a very long way and it covers small flaws and bumps nicely. It does seem to last for longer than other foundations I have tried, on my skin, and because it is not strongly pigmented, suits my skin tone.
For it's size, it's quite pricey, at £48/30ml but because I only use a very small amount, and not daily, it will last me a long while, so will be worth it, for me, but it is expensive when compared to other creams and bases.
So, this little bottle stays on my now very limited make up tray, and is handy on holiday too, and I am happpy to use it, when I need that little bit of extra cover, when a no make up look just won't cut it….
*I was sent some of this product to try, all opinions are my own*