Reading is a very important skill, and as a family we try to encourage reading together, when the children are small, and then independant reading, as they grow older although both my children still love being read to and I love reading with them. I also love to read, myself and finding the time to sit and enjoy a few pages from a book, either a real one, or on my Kindle App is a treat.
This week I am reading The King's Curse, by Philippa Gregory.
I have enjoyed most of her books, I enjoy historical novels, and this one, so far, is good. I do find her books tend to be a little "samey" but she writes a particular way, through all her books, and having read them all, I am probably a bit familliar with the themes and way she writes. I normally cheat and check what happens at the end of the book, even though I usually have a vague idea, because she writes based on actual historical events, but this time round I haven't so no spoilers please if you have already read this. I am reading this as a "real book" not an e-book, and it's quite heavy, being hardback, so it's not getting taken with me, in my bag, so is bedtime reading only.
Big Girl is reading The Naughtiest Girl series at the moment, and this week we are reading (and she is reading some of it independently when she wants some quiet time away from her brother) The Naughtiest Girl Marches On.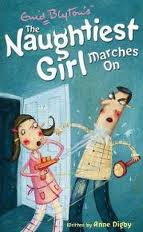 I went to boarding school, a fact that fascinates Big Girl, who is always asking me about my time at school and what we got up to, and we love this series so far, as we see how the protagnist Elizabeth changes and grows up, and gets used to life at school. I love Enid Blyton books, and grew up on them. I know they aren't everyone's favourite, but to me they are classics, and we like them.
Little Man is currently enjoying some  Little Miss and Mr Men books, and his current favourites this week are Mr Funny and Mr Jelly
We love the series, and he finds them very funny, and whilst he is not reading, yet, he knows a lot of the stories off by heart and will "read" along or guess what's happening next and we get told off if we miss any bits out… 😉
What are you reading? Any good books you would recommend for children or adults?