The first of a two part on back to school. Be warned, there will be mushy motherly emotion flowing, baby photos abounding, and much wondering of how time has flown….
Today, I will drop my almost 8 year old off at school, for her first day back of the new term, and her first day in the Junior school in Year 3. Technically, she can walk down to the junior playground herself, and take herself off to class when the whistle goes, but thankfully, this week, she has said that I can walk down with her, to say goodbye. As she gains confidence, we have agreed that she will go off by herself, and I won't come with her, unless I need to see the teacher or sign the sheet to say she is going home with someone else. I won't collect her from her class, after a few weeks either, she will walk up and find me.
How DID this happen?
I am sure she was only a baby yesterday…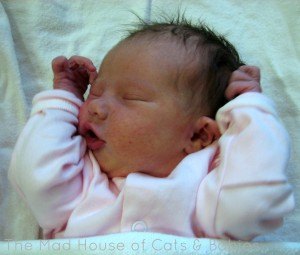 How has she suddenly become old enough to walk herself to class, and to decide if she wants me to walk with her? How did that tiny, helpless little bundle become the beautiful, happy, kind, organised, and amazing not quite so little girl, who I swear only trotted off into reception with her lunch box for her first actual day at school not long ago…?
I am hoping she enjoys year 3, and all it has to give her, and I know she will learn and work hard, and give a lot back. I will try not to show the tears that are secretly welling up, as I watch her walk away, growing up a little more each day. I have to send her little brother off to school in two weeks, as well. For the first time in a long time, I won't have any children at home in the day time, or with me at work, or to collect from nursery.
You will have to pardon this emotional post. This Mummy is having a moment. A proud but, still teary one. Hopefully by the time she goes to senior school, I will have toughened up a bit, right now, I can't even think about that one….