I have always been interested in the history of WW1 and WW2, but particularly WW1 so when one of my friends gave me a book from the War Diaries series from the Imperial War Museum, based on the diaries of a nurse who worked close to the Western Front in the First World War I was interested in what it would be like.  She served in France for the whole of the conflict. So far I am really enjoying it. It's very detailed and a little graphic, but she is filled with empathy and compassion for her patients and the soldiers so badly wounded and traumatized by the fighting and shelling,  and the book has even got little illustrations she herself drew, which makes it all seem much more real.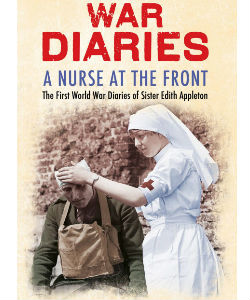 "This book, the second in a series of four unique War Diaries produced in conjunction with the Imperial War Museum, tells a story that is rarely heard: the experiences of a nurse working close to the Western Front in the First World War. Incredibly, Edith Appleton served in France for the whole of the conflict. Her bravery and dedication won her the Military OBE, the Royal Red Cross and the Belgian Queen Elizabeth medal among others. Her diary details with compassion all the horrors of the 'war to end wars', including the first use of poison gas and the terrible cost of battles such as Ypres, but she also records what life was like for nurses and how she spent her time off-duty. There are moments of humour amongst the tragedy, and even lyrical accounts of the natural beauty that still existed amidst all the destruction"
I think it also appealed to me because I was a nurse, and the medical side of things interests me, as well as the historical story. The First World War was supposed to be "the war to end all wars", sadly, we know that that didn't happen. We can only hope that by keeping history alive and by reading and learning about what happened, and remembering, that such a dreadful, bloody conflict will never be allowed to happen again. She writes very detailed and interesting descriptions and really keeps your interest, and she doesn't pretend or gloss over the horrific details, the poison gas descriptions and the agony the men who were it's victims are pretty stomach churning. I would say it's a very good read, particularly if you are interested in history and the details of WW1, and it isn't a battlefield diary, more of a personal story, and I would recommend it. I am going to get the other books in the series, to read, when I have finished this one.
What are you reading this week?