I talk about bras! Sorry Dad,  and also to my other male readers. Please feel free not to read this, although I would say you might want the link to the offer you will see later in the blog, for Christmas presents for your wives/girlfriends… 😉
When the lovely Sophie, from Franglaise Mummy shared her blog post about a visit to the headquarters of Chantelle the lingerie makers, in London, and how useful the event had been, and about how finding out about having a bra fitted, and more importantly, wearing the correct bra for her, made such a difference to her, I was very interested, and when she suggested she might organise another event, I was said I was keen to go.
This is the bit where I confess that I haven't bought any new bras since Little Man was a baby, mainly because I HATE shopping for bras, and also because to my shame, I didn't want to know what size I was and was convinced I would need some sort of hefty looking contraption my grandmother would have been proud of, to keep me together, if I did. So denial, four years of gradually growing grubbier underwear, it was time to bite the bullet…going to the Chantelle event seemed like a very good idea. I knew a little about the company, and that they make high quality underwear, but I had no idea what would come of the evening, and I was terrified to find out what my actual bra size was.
The evening was fabulous. Not only did I meet some very interesting people, including two people who's blogs I have read for a long time, but finally got to put faces to names and meet in person, but it was also very informative.
Chantelle have been making underwear and corsetry for over 100 years, and pride themselves on being experts in what looks good, fits beautifully and makes a women feel special, and confident in her shape. They are not cheap bra makers, and after the lovely ladies who were running the event explained how a bra is made, how many components, materials and the detail and care put into the underwear made by Chantelle it makes sense that you pay more for a bra or any underwear from them, compared to popping to your local chain store, to pick one up off the shelf.
Not only did they explain the different kinds of bras and styles, they also showed us how to put one on properly, which was pretty revelational (I have been doing it all wrong since I read "are you there God? It's me Margaret!" which I know is truly showing my age, who remembers that book?) It was really interesting to find out how wrong a badly fitted bra can look, how it damages the line of your clothes and even the fit, and also isn't actually very good for your posture, or your breasts. When they showed us pictures of what a badly fitted bra looks like, I cringed, A LOT and gulped down another mouthful of champagne so no one could see my blushes of shame. It's amazing the difference a well fitted bra can make, to your shape, size, how you look and feel!
After the talk we all got to look at some of the very lovely samples on display, and then all had a turn to be measured and fitted. No, I am NOT going to tell you my size, or show you what I bought, but I can say that I was pleasantly surprised and delighted when they fitted me with items that mean I no longer feel uncomfortable in my underwear and that boob job I was sort of thinking about saving for in a few years time can probably go on the back burner for a bit longer….Although I will definitely not be buying cheap underwear any-more, I would rather invest in some good quality, well made, properly fitting, lovely bras, that make me feel like I look good, so maybe I should still be saving a little bit! 😉 No need for old granny style bras either…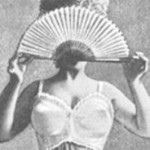 If you would like more details, and also to take advantage of the great discount that Chantelle are offering, if you purchase items from them, you can go to Franglais Mummy and read her blog post, which has lots of information and details and a link to the discount offer. 
Whilst I am on the subject of breasts please don't forget to Check Your Boobs. It's breast cancer awareness month.