We in the Mad House of Cats and Babies are always on the look out for good apps for our (well, technically it's mine, but the children don't get that principal) iPad. I have two technologically savvy children who like to explore, play games and learn and I love the iPad as a tool for those things. There are lots of fun apps out there, but I like creative ones that encourage the children to use their imagination.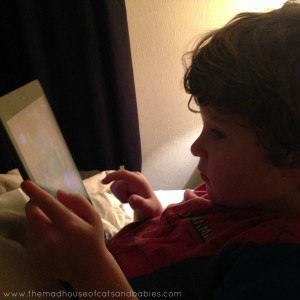 The Storytime Sounds App by Not On The High Street is a great little app, which we have on our iPad.
The app has 5 soundboards for stories, and an extra one, for Halloween. Lots of spooky sounds and noises, perfect for this week.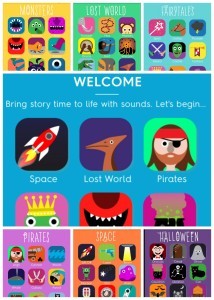 We found the best way to use the app was to decide on a theme, and then make up a story, using the sounds, and noises. Pirates, Space, Monsters, Lost World and Fairytales, as well as the extra Halloween sound board. The first time we tried it, I told the story and we added sounds, but pretty soon the kids had taken over, and were telling themselves stories, between them, and really getting into the different themes. The pirates and dinosaur sounds are the current favourite, although that changes each time the app is used. We have had kidnapping pirates, monster eating dinosaurs climbing volcanoes and fairy tales galore, and the sounds are really good, clear and realistic. The Halloween soundboard is perfect for making up a spooky tale, for Halloween, too. I would say this is a great app for 4 years upwards, from starting reading stories to being a bit more independent and making up their own, both my children like it.
It's a safe, easy to use app, that doesn't need access to the internet to use, which is something I really like personally as a parent, it means I can let the children play with it, without worrying about what they might be accessing, but we really like it because it is fun, and it really got them talking to each other, and using their imaginations, and there is usually a lot of giggling as they make up the stories and get working with the sounds. Little Man is learning to read, so apps like this are helping him to put stories and words together.
So, this Storytime Sounds app gets the thumbs up from us and it will be handy to use, with headphones, on our travels, or on car journeys too.