I think it has to be said, that very few people, especially those with small children, have not watched Frozen, a time or two, and probably know all the words to the songs. I know I do, and LSH does, and my children can sing all the songs with gusto.
So, a trip to watch Frozen, on the big screen, and sing along, was just what the doctor ordered, to end our half term week, this week.
We hopped on a train to Croydon, to Fairfield Halls, for our singing adventure. I did a little bit of reading before we went, and discovered that the building has been a huge part of life, in the centre of Croydon, for over 50 years, since it was opened by The Queen Mother, in 9162, so it's got a lot of history going on.
Before we went in to watch the movie, we were treated to some VIP fun, with face-painting, photos with some of the characters of Frozen, and some lovely goody bags. As you can see, my children have no problem posing for a photographer…

Then we climbed the rather grand stair case, and went in to watch the film.
They have a new cinema screen, which my children, used to our rather small screen at our local cinema, were very impressed with. "Mummy, it's a bit ginormous!"
"Delivering 4K projection on the biggest Screen in Croydon, with 7.1 surround sound, the new cinema provides a fantastic entertainment experience. Funded through Croydon Council's capital investment programme, as part of a package of works recently carried out at Fairfield, this new equipment enables the Concert Hall to host live Event Screenings as well as great films as part of the venue's entertainment offering"
I have to say, it's really nice to watch a movie, on a big screen, in the comfort of concert hall surroundings. It feels like going to the movies, but with nicer seats, and not cramped, dark, and frankly sometimes either a bit sweaty or too cold (depending on the mercy of the heating or air conditioning, in most cinemas) and it was brilliant for watching a sing along movie as the sound was very clear.

We sang along, first of all with a bit of help from the Pop Choir, to get us in the mood and our voices going, then with the movie, when it started and all the way through. Yes, even the grown ups sang, and it was fun to hear all the children and adults joining in. Not something I would have done pre children, but you become less self conscious when you have had kids, these things are fun to do when you are a parent. Lots of voices joining in for the famous "Let it go" song, but my personal favourite is Olaf singing about summer, so I joined in with gusto and LSH hummed along too!
The children LOVED it, both of them singing along, dancing a bit, and generally having a grand old time. (it was quite dark, so hard to get photos of them in action).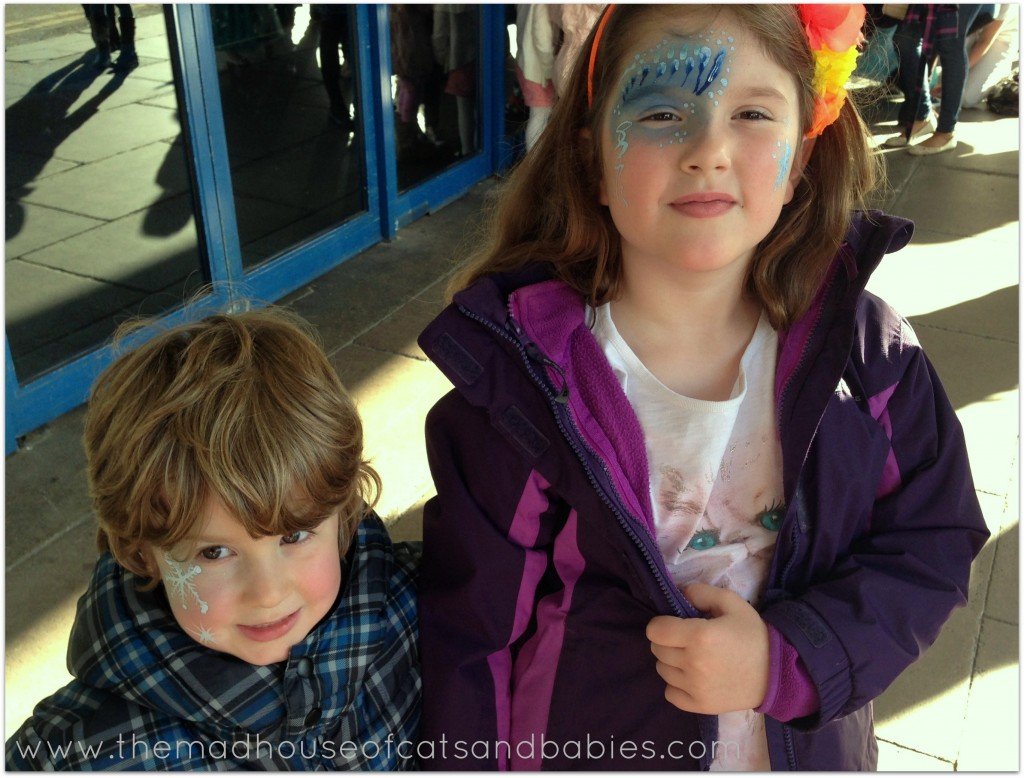 Definitely a fun day out for the whole family, with a bit of culture thrown in. After the show, slightly hoarse from singing, but what fun we had… Frozen sing along and Fairfield Halls get the thumbs up from the Mad House of Cats & Babies!
We were treated to tickets to see Frozen at Fairfield Halls, all words are our own, or from an authorised source.