Swimming, both for fun and exercise, is something we love as a family. Big Girl swims regularly, both at school, with her class for lessons and at private lessons on the weekend.
I firmly believe all children should be able to have basic swimming skills, from as early as possible, not only because it is fun, and a great activity, is great all round exercise, but also because being able to swim could save their life. I am planning to write a blog post with more on this, in the next few weeks.
We haven't really been able to go swimming as a family, properly for a long time. Little Man, as you know, if you regularly read this blog has had some issues with his ears, and when I tried swimming lessons with him, a long time ago, where we both go in the pool and joined a baby swim class, hated it. He would scream until he was purple, and beside himself, and despite the teacher telling me "he will get used to it, eventually" after 4 weeks of this, I knew it wasn't the right time to try swimming (we didn't know then, that swimming, the water, the noise, the not being in control was triggering some of the sensory issues that he had from chronic ear infections, at that point still undiagnosed) so we stopped and although I tried once or twice to take him into the pool locally to us, for fun, with his sister, it usually ended up with him in tears, clinging to me, refusing to go in the water, or sitting on the side of the pool, only allowing his feet to get wet.
Over the summer holidays we did go swimming, in the local poor near where we stayed, and in the local lake, and his confidence about being in water has slowly improved.
So, it is time for us to start looking at having some fun as a family in the water, teaching him some basic water skills, and then we will start swimming lessons for him. So finding a place with a swimming pool, that does lessons, and also has other facilities I can use for regular exercise as well as being somewhere we would swim together as a family, was on my to do list.
We visited the Elmbridge Excel Leisure Complex, recently, as a family, and I have to say we were very impressed. We mainly wanted to look at their swim facilities, and lessons, as well as perhaps the odd exercise class for me, and to see if it was the right place for us.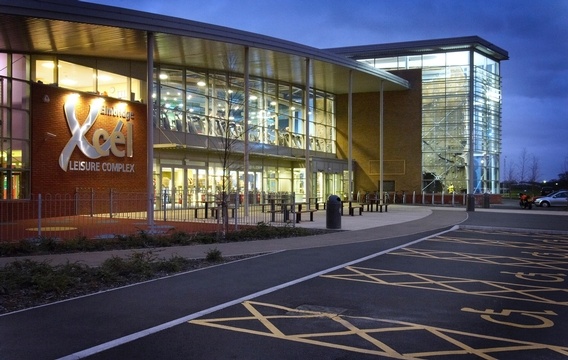 I have visited a few liesure centres in my time, as a parent, and user of facilities, and some places can be, frankly, a bit grim. Either horribly busy, hot, and disorganised, limited classes and facilities or dirty, and not very nice, or just too small to cater for the number of people visiting them. I am very picky about things like how clean changing rooms are, what the pool is like, what classes are on offer, if they have a cafe or eating area, what is available, and costs. Costs are a big deal, to me, next to cleanliness and general user friendliness.
It's a very big centre, compared to our local one, and is slightly out of the way for us, but parking is free, and there is plenty of it, so getting there in the car is easy, and there is a bus, so I can get there from work, if I want to.
The centre is very busy, but in a good way. There is plenty to do, and plenty of facilities. There is of course, the gym, which looked great, and a good range of exercise classes, which I am going to sign up to try out, both looked popular and full, which is always a good sign, and we had a quick look at their soft play area (clean, a HUGE thing for me) and their cafe has a great range of food, and drinks, and the prices are not unreasonable. The pool area is lovely. They have a huge main swimming pool for lessons, lane use and regular swimming, and a great children's pool, which is lovely and warm, but also big enough for family use, so even though it was a busy Sunday in half term, it was a pleasant swim experience and Little Man LOVED it and was happy to splash about in the water, and play, without really needing me, other than to keep an eye on him.
The changing rooms are busy, but clean, and we used the family changing area, but I did have a nosey at the general female area and LSH checked out the male change area and both were clean and easy to use. The showers were warm too, which is a bonus (they are cold, at the place where Big Girl swims, for her lessons, not always the nicest thing, when you are getting washed up after a swim)
We also had a look at their climbing wall, which made Little Man's eyes light up, I suspect we (he) might be giving that a try out at some point, it did look pretty amazing, and checked out their facilities for parties and events, which are very reasonably priced.
So, the Elmbridge Excel Leisure complex gets the thumbs up from the Mad House of Cats & Babies, both children and adults, and we are looking forward to a return visit soon…
You can follow them on Twitter or Facebook to get updates, news and offers.
*We were given free swim passes and a tour of the facilites, all words are our own*