The real title of this post should be "I really don't do group exercise, but I'll keep trying…"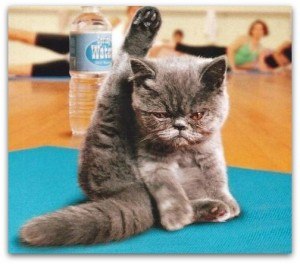 One of the goals I set with Laura from Laura Mussell Nutrition. who is helping me to with eating, general nutrition, well being and weight loss was to try an exercise class, this week, something gentle, toning and easy for me to manage. I signed up to try out a local Pilates class this week. I'm not a huge fan of group exercise, but my physiotherapist has also recommended gentle core strengthening exercise so I took a deep breath, booked myself in, and decided I'd give it a go.
I don't have any "proper" (aka designer) exercise clothing, other than my running trousers (which are, ahem, tatty to say the least) and a selection of old t-shirts, and a Gap sweatshirt I've had since I was a student (about 200 years ago) I don't bother to dress up in fancy running gear other than decent trainers, so don't see the point in buying exercise clothes. So I arrived (late) and shuffled into the class, got myself settled right at the back, and realised I hadn't thought about a mat, to use. Everyone had brought their own, so I had to shuffle to the front and borrow one from the instructor. She's lovely, if a tad over enthusiastic.
I shuffle back to the back of the class and we start…
The eleven other ladies were clearly well practised at the exercises, despite my being reassured that this was a new beginners class (I'm sure they practice at home to DVDs for a few weeks at least before coming the the actual ckass) and they all were in Lycra, with posh mats and most of them were wearing make up. They all looked calm, relaxed and like they were enjoying the class. Me? I was sweaty, uncoordinated (and I don't just mean my clothes) and struggling to be calm and look like I vaguely knew what I was doing (I didn't and it showed!) and whilst I did manage to last the class, without falling over, it wasn't an easy effort.
I don't like exercising with other people. I never have. I hated sport at school that involved you having to all do the same thing in a group. I could just about manage cross country running, tennis or hockey (running around a field in the bracing Scottish winter, hitting a ball at a stick and yelling at my team-mates I LOVED!) but classes like aerobics, gymnastic or dance classes (not ballet, I can do that, although I will still stand at the back of the class) I hate being around other people, feeling like I am the only one swaying to the left or star jumping to the right, whilst everyone else goes the other (correct) way. I hate getting sweaty in front of other people. I always worry that everyone in the class is thinking in their head "gosh, that chubby, ginger haired woman is making a right meal of this, it's so easy, she must be a real clumsy idiot…" I know they aren't really (well, I hope not) but it still makes me uncomfortable.
Still, I will persevere. I can't get fully into my beloved running, yet, and I do need to strengthen my core, and tighten up and tone my midriff (aka the Mummy Tummy I have been too lazy and tired to do anything about) and the instructor was terribly kind (she felt sorry for me, I think) and has given me a dvd so I can do some basic moves at home – which no doubt will be great amusement for the children…
Group exercise, not my thing. How about you?