This week's Creative Kids is a bit of a short one. I not only have a sinus infection that has come back, when I thought it had gone, but now probably laryngitis too (off to the doc on Friday if I am not better, I am OVER being under the weather) but I thought I would share a bubble recipe we love, both for at home, and also we use it at the toddler groups I help to run, and at parties and events. We use a bubble machine, for more bubbles, but this recipe can also be used at home if you save your old bubble mix bottles, and wands and just fill them up with your own mix…
A year or so ago, we went to the Science Museum and went to a talk on bubbles, that was fascinating, and very educational, both for the children and adults. They talked about how bubbles form, keep their shape, why they have a rainbow appearance. I learned that apparently adding a small amount of glycerin to bubble mix helps form stronger bubbles and makes them last longer.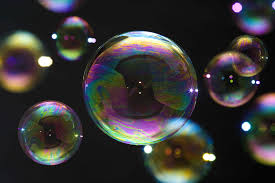 I tweaked the recipe they gave us, and this is what I use, when we don't have any ready made bubble mix in the house, or when I need a LOT.
250 ml dishwashing detergent
2 litres of water
2 tablespoons (60 ml) glycerin (available in pharmacies or in the baking section of the supermarket)
Mix together, and allow to settle
(Store in a bottle, or jug, clearly labelled, just to make sure no one tries to sample it as a frothy drink! We use ours up quite quickly but it lasts for a good month, if not being used )
If you let this mix sit for a day or so, the bubbles are really big, and strong. I find that using a good quality dishwashing liquid (we use Fairy liquid, this is not a paid blog post, I promise 😉 ) for great bubbles.
or if you really don't want to or have the time to make and store your own bubble mix, then I have found that often the cheaper stuff from the shops is better. We have a Wilko store near us, and they do bottles of bubble mix for 35p, which produce great, long lasting bubbles….
So, there you have it, the Mad House of Cats & Babies has the answer to the best bubble mix!
Next week, we will be sharing our filo pastry mince pie recipe that the kids love making, and hopefully I will be feeling much better!