I don't actaully like lollipops in their tradtional form very much, although my children enjoy them as a special treat occasionally, but we recently tried out some Frollipops, from Fruit Bowl, and I have to say, as a non lollipop lover, these actaully appealed to me too!
Frollipops are slightly different. They are not hard, and crunchy, like most lollipops. They also contain only natural colours & flavours, and are one of a child's Five-A-Day because they have a lot of natural fruit packed into them. They are made from real fruit, with no added nasty extras. Plenty of reasons for adults to like them when looking for a treat for your kids. I like them, for these reasons and also, they are not sickly sweet, like other sweet snacks, so I am happy to eat them, on occasion, when I am craving something sweet but want to avoid cakes and biscuits.
My children love them because they are soft, and also come in fun shapes, and are easy to open and devour. The apple flavour comes shaped like a dinosaur, and the strawberry one like a rocket. Much more interesting than your average lolly!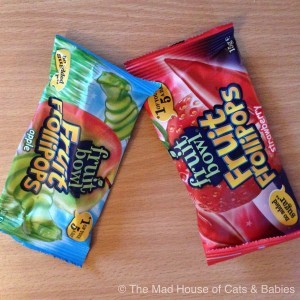 They are handy for snack packs, and also for travelling, they aren't messy or sticky, and are easy to eat. They are usuful for travelling or for keeping in the cupboard for treat time.
The last pack of strawberry Frollipops was actually squabbled over not only by the children, but by the adults too (I won, lucky me, we did rock/paper/scissors) so I think we can say that these are a regular in my shopping trolley and are approved by all members of the household (except the cats, cats don't lile lollipops, or at least I don't think they do….)
*we were sent some Frollipops to try, all words and opinions are our own*