I have started a new series of blog posts. I am FED up of the way parents, and actually mothers, to be honest, are put under so much pressure, to be perfect and to have this parenting thing under control and be able to do it all, and the constant judgement we are under. This parenting job is HARD, we get no training, we don't get paid, and we do it because we want to aned love our children. Sometimes we don't get it right, sometimes we get it more than right. We are all mostly just trying to do our best. I am tired of the "how to be a perfect wife, mother, craft provider, cleaning lady, cook…" stuff that gets flung at us every day. We need to take the guilt and throw it away and enjoy parenting, but also be able to admit when it's not going so well, or might be a bit tough…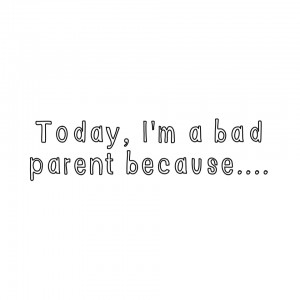 My children are writing their Christmas cards to their classmates and I'm seriously bah humbug and resentful about it!
I'm not a huge fan of Christmas cards myself, this year I've refused to do them, other than to close family far away (sorry to those of you who have very kindly sent them, it's not that we don't love you, but I just don't have time or capacity to manage them this year!) but my children are insisting on writing cards for their classes. That's 56 Christmas cards, between the two of them. Other parents who are far more organised (and irritatingly far more capable, apparently) have already started, and not only have we had Christmas cards but gifts too, not huge ones, a sweet, a small fruit treat, a small Christmas decoration, all things which clearly require more time and attention than I currently have. Lovely, and actually really sweet, and not unappreciated, but just adding to the guilt and pressure I am now feeling that the kids MUST get these cards done, to present to their classmates and now I am adding "chocolate coins" to my shopping list, so they can add one to each card too!
I am SO grumpy about the whole thing. I really am feeling a lack of Christmas spirit, as I painfully spell out each name for Little Man (who refuses to copy off a list, insisting I spell each name out, and then gets cross at me when he thinks the name doesn't look right. Hey, I am only Mummy, I don't really know how to read a list of names then spell them out, phonetically, at 4;30pm, after a very busy day, when all I want is a glass of wine, and bedtime to come asap!!)
So, it's lovely. They are happily (OK, Little Man is currently not happy, because apparently I have spelled "Theresa" wrong, despite that being the way it is written on the class list the teacher helpfully sent home, "just in case you wanted to do cards for your children") writing their cards. They have no feelings of bah humbug, they love the whole thing. They have counted the chocolate coins (and eaten a few, and yes, I have hidden a few for my own consumption later, to make me feel better 😉 ) and are licking envelopes and making little piles of cards to take to school. I don't feel lovely about it. I think it's silly, and time consuming and I wish we didn't have to do it, but I would be an even worse parent if I told them they couldn't, so I am venting here, on the blog, and using my best "let's do this lovely activity together voice" for them, instead. I will try not to look even grumpier when my child comes home tomorrow bearing a home made muffin, attached to a hand painted Christmas card…
So that is my bad parent confession for the day. I am off to help lick the last of the envelopes and try and look happy about it!
What's your bad parenting moment this week? Feel free to share in the comments!