When we were asked if we would like to review some gluten free products from Hotel Chocolat, we had no idea what a treat was in store for us. We were rather stunned when a splendid package arrived, and it was pretty much a chocoholics paradise in our house. We were sent a Triple Chocolate Wham Bam bar, 500g in size, a box of Classic Champagne truffles, and The Large Signature Chocolate collection.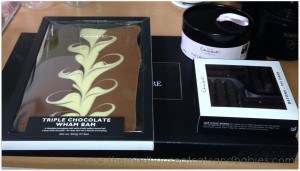 Where do we start? The Wham Bam chocolate bar, which is a pretty impressively sized specimen of chocolate, and was squabbled over by children and adult's alike and has something for everyone, in it, with a little milk, a little dark and a swirl of white chocolate to finish it off. The children and my husband had to break it into small pieces to enjoy over a few days, because I am mean and wouldn't let them eat it all in one go…. This would be a perfect Christmas present for a chocolate lover, a great stocking filler or just as something different from your usual chocolate bar.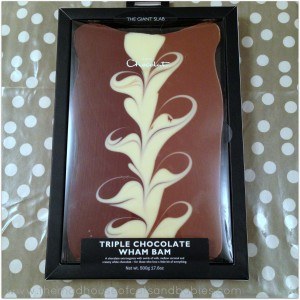 The Large Signature Collection, when we opened it, made LSH's eyes light up, like it WAS Christmas. Finding gluten free chocolate has got easier, these days, but to find chocolate that is really good quality, with such a good selection, is amazing. Again, we rationed ourselves to one or two a night, to taste test them all, and come up with favourites. All the chocolates were excellent, and it was actually hard to choose which ones were our favourites. There is something in there for everyone's taste, from salted caramel, to plain dark, to nuts/fruit and some sweeter, and some not so sweet. In fact, the only one we both didn't really like was the chilli chocolate, but we discovered our four year old LOVES chocolate with chilli in, so he was delighted to eat those and was most upset when they were gone. This would be a perfect luxury present for someone who loves to try different chocolates, as a treat, or even as a special alternative to dessert when making a gluten free meal, say for a dinner party, because there are so many lovely chocolates to choose, you could have two or three with a good cup of coffee, and not need pudding. We were very sad when the box was finally empty.
The Classic Champagne truffles are also a perfect gift, or just when you want something that little bit more than a normal box of chocolates. They are light, creamy, and not too overpowering. They come in such a pretty box, as well. If you are looking for a gift for a teacher, child-minder, or someone you work with, these would be perfect, and they are very, very moreish.
We were very impressed with packaging, presentation and the taste of all the chocolates, and would definitely recommend them. If you love chocolate, or know someone who does, any of these items would be a great gift or treat. You can never have too much good chocolate, I think anyone would be happy to eat them, and the fact that they are gluten free is wonderful, because it means you can get them for someone who is gluten intolerant, and know you are not only getting them something safe they can eat, but also something really special. That's a winner for us.
If you are looking for a last minute Christmas gift, I don't think you could go wrong with any of these….