I shared a blog post, a while ago, about going make up free. I talked about how I don't like the feel of make up on my face, and frankly, finding the time, and making the effort to put it on, make sure it looks ok, and also to have to retouch it, during the day, and the fact that most make up seems to slide off or disappear off my face, during my busy day running around, meant that I found the whole thing a bit of a faff and not worth the effort.
I initially tried going make up free for a month, to see how I got on, and then an update on how I was getting on, and what products I was actually using on my face. I have been wearing make up for special occasions, but usually, I go bare faced, with a little bit of sun screen as required, during the summer or when on holiday.
After nearly 6 months, I have gone back to wearing some basic make up daily. Read on to find out why…?
I have to say, the pros of not wearing make up are many, from saving money on products (I have bought one bottle of the product I use, in the last six months, and have had to replace very little of the other items I occasionally use) It also saves time in the morning. I wake up, rinse my face, slap on a little sun screen or moisturiser if needed, and then I am good to go. I have my eyebrows threaded and coloured regularly, and my gingerish eyelashes dyed as well, so I don't feel I need to use mascara or liner, and the occasional dash of lipbalm if needed is easy. I also don't have to worry about taking it all off, or re applying it during the day, or checking to see if it's all slid or been sweated off (I run around a lot at my day job and can get very hot and sweaty, most make up doesn't stay on my face) and needs touching up.
I am lazy, it's easy not to have to worry about putting make up on. However, I have noticed that people comment more on how I look, without it. This seems very vain, and conforming to the demands of society that we HAVE to look good, but I have definitely had more "you look tired" comments, when I am not wearing make up, and I will admit, I do look different with no make up on my skin. It hasn't really affected my confidence. At 38 and a bit, I am pretty happy in my own skin, people judging me by what make up I am wearing, don't really bother me, too much, and to be honest, lots of poeple don't wear make up, so I know I am not alone. I have reasonably good skin, that only occasionally breaks out, and also, frankly, layering on lots of cover up, to hide a pesky spot usually doesn't work well for me, and makes it look worse and ragingly obvious. I also think my skin improved because I have not been wearing make up, and seems less oily.
It was great not to have to wear make up whilst on holiday, in Thailand, recently. It's pretty hot and humid there, and as I seem to have skin that doesn't like to keep make up on, it was easy to not bother, and just go bare faced and not have to worry about it. It meant less to pack, as well.
My children always tell me "you are beautiful, Mummy" even when I am looking my unmade up, wildest, pre coffee in the morning worst, and LSH says he doesn't care if I wear make up or not, he loves me as I am, which assures me that the people most important in my life REALLY don't care about if I have mascara and base on. I did ask LSH what he thought, honestly, about no make or or wearing some and he did say that I do look good wearing a bit of make up, but that if I don't want to, I don't NEED to.
But, in spite of all of that, this week, I went out and bought a proper foundation, and some primer, and have started wearing make up again.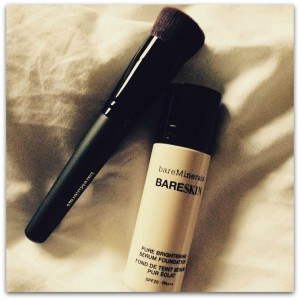 Why? Because as much as it pains, me, I do look slightly better with some basic make up on and as my day job becomes busier, and I spend more time having to present myself to the public, with what I do, as well as with the blog and social events, I do think I need to make a little bit of effort. I am not wearing make up because I have to, more because on some days, I want to. I have done a fair bit of research and looking into what will work and what won't slide off, and my current choice is this one. One week in, and so far so good. I am not going overboard, with the full made up face, daily, I don't have the time for that, but primer, foundation, and under eye cover do the trick, and mean I can go about not looking over made up, but feel comfortable, and some days, I will wing it, and go without. I think I have got to the point where the best of both worlds works!
I would love to hear what people think? If you wear make up, would you consider going without? Do you never wear the stuff, or only occasionally? Feel free to share!