I thought it would be fun to start of 2015 with a light hearted (most of the time) linky or blog sharing attempt. Anyone can join in and if you don't have a blog you can share on your Facebook or social media instead.
We have had little or no wifi or internet again, this week so I haven't been able to work on the nice image I have in mind, it should be ready next week. Feel free to use this one or your own.
The rules are simple and few:
I will come up with a suggested theme for the week and name my own three things within that theme, then I will post and share. I might tag a few people too to get things going. You do the same, on whatever platform you want. You can add your link at the bottom to you page or blog post. Name 3 things?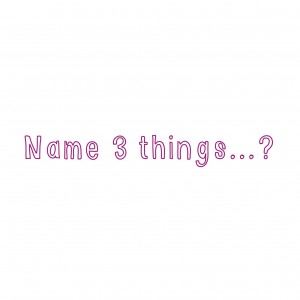 Last week we had everyone naming three famous teenage crushes. It was a close call between band members of Aha and lots of other suggestions. Thank you to those who linked up. I had a rather awful week, last week, with some stressful stuff going on, and your posts cheered me up tremendously!
This week, you need to name 3 foods you hate, and why?
I must admit that whilst I am not a picky eater, I did struggle to narrow my choices down to 3, but I did finally manage to determine that the following three are the most gag inducing, stomach churning items on my "I won't eat them" list….
1- Lumpy porridge: I am 1.2 Scottish, and spent a lot of my childhood in Scotland, both at boarding school and with family. I ate a lot of porridge. Boarding school porridge was notoriously awful, and we used to pick the lumps out of our bowls and line them up on the side, and occasionally flick them at people. In fact, I am gagging, as I type this. The horror of lumpy porridge still scars me today. The thing is, it's actually very easy to make smooth, delicious porridge and if done right, it can be a real treat, as well as being good for you. I happen to like my porridge with cinnamon and a sprinkle of brown sugar, or for a real treat, with a dollop of whisky cream, but the lumpy, awful stuff people still serve is an abomination, and should be banned.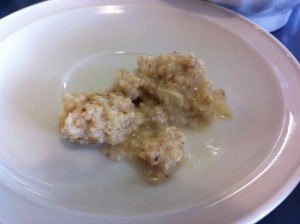 2 – Jelly: Yes, I know, I am weird. I loathe the stuff. It's sickly sweet, sticky, wobbly, and feels horrible in my mouth. I can't even swallow it. I was the child at parties who refused to eat the much coveted and desired "jelly & ice cream" and to be honest, I rarely buy or make it, because I can't stand the stuff. My kids occasionally will ask for it, and I will make it, but if the world could exist without it, I would be a happy person!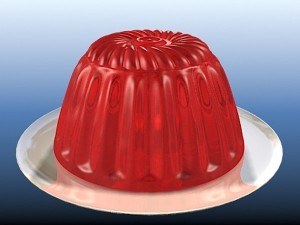 3 – Raisins: I cannot stand them. I don't like their taste, texture, flavour. I serve them at our toddler groups each week, and I grimace as I pick them out of the bag to serve them. I particularly hate savoury foods that include raisins, and will pick them out. I can just about tolerate a cake with them in, but only if I am desperate and there are no other options. They look like rabbit droppings. They also are a nightmare to pick out of carpets and clean up when squished. Ban raisins, I say!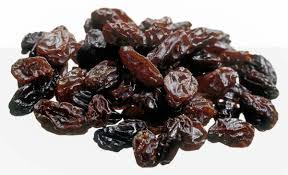 So that's my 3 choices. Feel free to share yours, on your blog, or on Facebook and link up, and spread the word on social media. I look forward to hearing what foods make your stomach churn! 😉