Welcome to creative kids. Mum is rubbish at crafts, but she likes to find other ways to encourage creativity, using imagination and having fun making things… No glitter allowed! 😉
This week, is a bit of an offbeat edition for us. I wanted to share with you how proud I am of my Little Man and about his new love of dance.
A little back story first…
As you know, Little Man had issues with his ears, which meant sleep and behaviour issues were a big part of his life, until we were able to get him seen by an ENT and were finally given a diagnosis of chronic glue ear, which meant he needed grommets inserted.
One of the things he really struggled with was group activities of any kind. He hated playgroups and toddler groups (that was very challenging considering my job) and anything that involved groups of other children where he was expected to join in. It took me a long time to accept that he didn't like them (he would cry, scream, protest, cling to me, refuse to take part, and slowly got more and more anxious in his behaviour) and I tried many things to see if there was something we could both enjoy doing. Nope, not a single thing. Swimming, dance classes, Gymboree, smaller toddler groups, he loathed them all, and it made me very stressed trying to get him to "like them" so we gave up. We now know that his ears basically hurt all the time, that he was sensitive to the noise around him, that people being close to him or having to be in groups was hard for him to handle and loud activities like toddler groups caused him anxiety. I wish I had known, sooner, parental guilt is a killer.
After his grommet surgery, he was like a new child, and he developed and changed so much. It took him a LONG time to adjust to normal hearing, normal life around him, and to learn to cope with group activities and joining in. Nursery, and now school, where he has Occupational Therapy to help with some remaining sensory issues, have made a huge difference.
He now can cope with group activities, and has recently started swimming classes, gymnastics club at school and he asked to start dance classes with the same group of teachers that Big Girl does her dance classes with.
The lovely teacher in charge of the ballet classes we attend has recently organised a boys only ballet class, with a small group of boys aged 4-6 and he has joined in. He LOVES it. He adores his teacher, and has developed a real friendship with the boys in the class. She is teaching them balance, co-ordination, and the basics of ballet.
He has thrown himself into the classes with such joy and enthusiasm, and is so happy to go off with his teacher and peers and take part, that it reduces me to tears, when I remember how hard a time he had before. It fills me with delight that he has found things he enjoys and is able to take part in, and that also are really great for him, for encouraging creativity, and also physically for balance, strength, rhythm, and using his imagination. We are very lucky that we have such amazing ballet teachers that share their love of dance, with the children in their classes, and inspire them, and teach them. I know they won't mind me giving them a mention here, but if you do live locally to me, and have a little one who wants to join ballet classes you can check them out here.
So, this proud mummy will leave you with some photos, of her boy, and maybe secretly I might wonder if he will be on the stage some day, and I will be watching proudly from the audience and I shed another tear or two at how far he has come.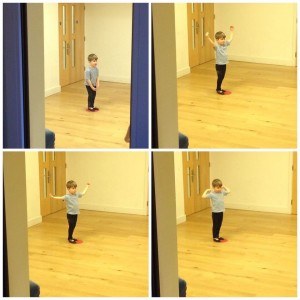 What have you and your kids been creating this week?