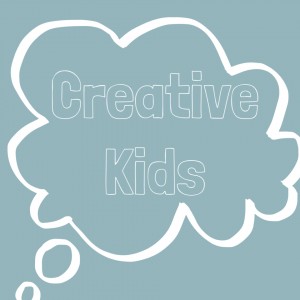 Welcome to creative kids. Mum is rubbish at crafts, but she likes to find other ways to encourage creativity, using imagination and having fun making things… No glitter allowed! 😉
I have two children who like to make things. Sometimes it's easy for me to facilitate that and even join in with what they are doing, and sometimes crafting is beyond me. I like to have things up my sleeve (or hiding in the craft box) to produce for rainy days, or when the cries of "I am bored" start surfacing, or when I want the kids to not be using technology and to be creative instead.
Last week, Big Girl was not that well, and had a few days off from school with a nasty chest infection. She was well enough to potter about the house, or sit on the sofa, and watch tv but not run around in the cold. She got a bit bored one afternoon, and I had to do some work and was wracking my brains to think of something she could do, whilst resting. I remembered we had been given a box of beads, and bracelet making materials, so I pulled those out, set her up with a tray, on the sofa under her blankets and she spent hours making bracelets and creating things with the beads. Result: happy, occupied child, and Mummy able to do some work, whilst keeping half an eye on her.
Beadwork is such a simple, easy craft that a child who is dexterous with their fingers can enjoy. She was happy to string and re string and create until she was satisfied with the results and she made bracelets and necklaces for me, and some of her friends. The set we have ccomes with all sorts of lovely wooden beads, and letter beads as well as colourful thread to string them on, and can be used and reused. It's a rather clever, but simple craft idea. I have been patting myself on the back ever since for remembering we had it.
We love our bead set so much, we have decided that our March Creative Kids giveway is a set of beads, to share our new found love of all things beady and fun.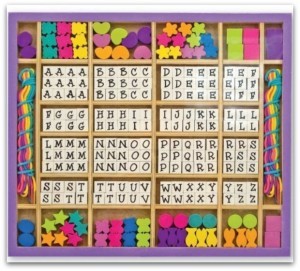 We have a Melissa & Doug wooden bead bracelet/necklace making set to giveway….
Lots of coloured, wooden beads, with letters to add your name, and colourful string for bracelets and necklaces in a sturdy wooden storage box.
You can enter by leaving a comment telling me what you do when you need to find an easy, not too messy activity for a creative kid, on a rainy or sick day, the clicking on the link to Rafflecopter.
Terms & Conditions
Winner will be chosen at random by Rafflecopter
Giveaway starts on 25th Febuary 2015 and ends on 31st March
Entrants must complete the requirements set in Rafflecopter
Item is not transferable and no cash or alternative is offered.
Winner will be notified by e-mail within 48 hours of end of giveaway.
I will post free within the UK, international entrants welcome, but you will have to cover postage costs.
So that's our Creative Kids this week. What have you been creating?