Mother's Day is just around the corner, I usually love getting the hand made cards and carefully chosen with pocket money presents from the children and LSH, and I do like the occasional treat and appreciate unique or funny gifts so finding something that appeals to me and my slightly eclectic sense of humour is always a good thing.
A little known fact about me, is that I love tea cups and saucers, especially unusual or unique ones. I have two very cherished and antique tea sets and a growing collection of individual tea cups and saucers and espresso cups and saucers that have been gifted to me, or found on trips or that have caught my eye.
So, a perfect gift for me, is this rather gorgeous tea cup from Not on The High Street…
It is no secret that I like good Gin & Tonic every now and then, so this delicate tea cup appeals to my sense of humour as well as celebrating my love of that famous cocktail tipple.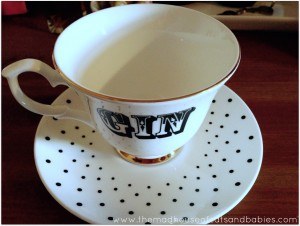 It's something that little bit different, as a gift with a sense of humour, or for someone who likes fine china, or for someone who likes Gin. It's an ideal present for a tea cup collector like me, and would be a perfect gift for Mother's Day, when the usual things like flowers and chocolates seem boring and uninspiring. Getting your Mum or someone in your life who has been like a mum to you, a gift that is that bit special, to say thank you and treat them, is important, and this a very clever suggestion, from Not on The High Street, that would be perfect. In fact I already have plans to order one for a good friend of mine, who will love it, and who shares not only my sense of humour but likes her tea in a pretty tea cup. I also think my Father in Law might like one of these, he will have to wait til it's Father's Day though… 😉
The only problem I have now is that I can't decide if I will actually drink tea or coffee out of this or whether I will keep it on display for everyone to admire, decisions, decisions…
*I was kindly sent this teacup to review and drink my tea, or gin from 😉