Welcome to the Bad Parent blog post series.
I am FED up of the way parents, and actually mothers, to be honest, are put under so much pressure, to be perfect and to have this parenting thing under control and be able to do it all, and the constant judgement we are under. This parenting job is HARD, we get no training, we don't get paid, and we do it because we want to and love our children. Sometimes we don't get it right, sometimes we get it more than right. We are all mostly just trying to do our best. I am tired of the "how to be a perfect wife, mother, craft provider, cleaning lady, cook…" stuff that gets flung at us every day. We need to take the guilt and throw it away and enjoy parenting, but also be able to admit when it's not going so well, or might be a bit tough or sometimes you might need to get something off your chest. You would be surprised how many of us out there that feel the same…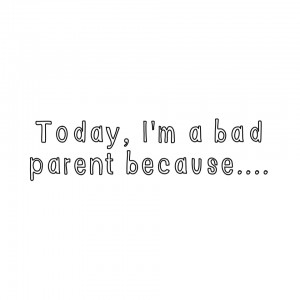 I am not popular with my children this week. Why you ask? Have I been cruel and horrible? They probably think so. I have done something that they think is truly awful, and frankly, I don't care…
I have banned a TV programme! Yes, I have. Not for any reason, like it is unsuitable, too adult, doesn't fit with our family values or might be scary (well, actually, I find it scary, but that's just me) but simply because I DON'T LIKE IT. That's right, I do not like a particular programme, and after suffering for weeks, I have finally put my foot down and outright banned it, before I ended up hurling something at the TV when they watch it.
So what programme has offended my sensibilities so much that I have had to forbid it?
This one….

I CANNOT stand the programme. It's currently on CBeebies. It's annoying drivel. I don't think it teaches my children any musical skills or appreciation for music or singing, and frankly I think it's rubbish. I am sure the presenters are nice, in real life, but when they come on my screen, I want to say rude things to them…
So, it's not allowed. My children are still sulking, but my sanity is preserved. They have plenty of other option to watch, they aren't that hard done by, but I feel happier. Bad parent, maybe, but I pay the tv licence, so I think I should get a say in what they watch and what comes on the TV in our house!
Have you ever banned a TV programme? Do you have one you hate? Do you think I am the meanest mother in the world or should we all join in solidarity and rebel against annoying TV drivel that our children are so keen to watch?
Got a bad parenting confession? Feel free to share in the comments, or if you would like to write us a guest post, please let me know?