Welcome to our week in photos. Come and join the chaos of our week, usually involving grumpy cats, coffee in copious quantities, family life and the odd cake photo thrown in for good measure…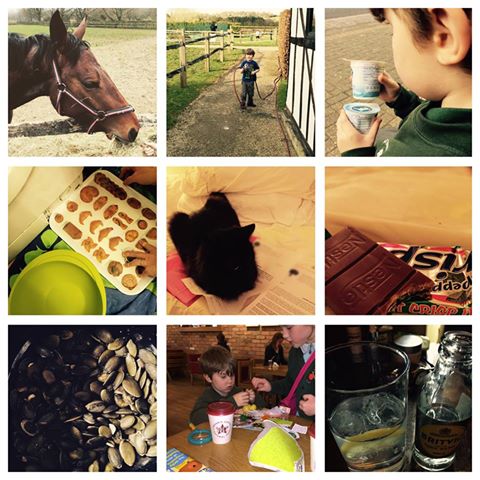 This week we have:
A horse we made friends with, on our weekend away in Sussex
A small boy with a hosepipe (yes, I know, who thought that would be a good idea?)
Small boy again, this time armed with yougurt pots, because doesn't everyone carry those around with them?
Cleaning the washing machine filter (ahem, lego and a pound coin were the culprits causing my washing machine to freak out)
Peppermint crisps imported all the way from South Africa.
The usual grumpy cat, sulking on paperwork, she does not like it when we go away…
I am becoming a hamster, eating lots of nuts and seeds (pumpkin seeds, here, actually, to cancel out the chocolate Peppermint crisp)
coffee and comics after a long day at school and cheers,
a G&T to celebrated our Tired Parents weekend away, which I will tell you more about later in the week.
So that's us. What have you been up to this week?