Welcome to the Bad Parent blog post series.
I am FED up of the way parents, and actually mothers, to be honest, are put under so much pressure, to be perfect and to have this parenting thing under control and be able to do it all, and the constant judgement we are under. This parenting job is HARD, we get no training, we don't get paid, and we do it because we want to and love our children. Sometimes we don't get it right, sometimes we get it more than right. We are all mostly just trying to do our best. I am tired of the "how to be a perfect wife, mother, craft provider, cleaning lady, cook…" stuff that gets flung at us every day. We need to take the guilt and throw it away and enjoy parenting, but also be able to admit when it's not going so well, or might be a bit tough or sometimes you might need to get something off your chest. You would be surprised how many of us out there that feel the same…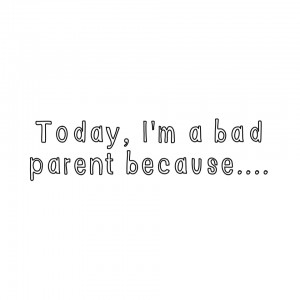 This week the sun has come out. It has been such a delight to send the children to school not layered up in coats, hats, gloves and winter uniform. However, I had a slight twinge of discomfort, when I got the note home from school, informing us that we needed to make sure our children were wearing hats and to make sure they have sun cream on, when we send them into school.
I am a bad parent because in my mind, it's April, it's only just spring, it's NOT actually that hot or sunny, at least I don't think it's summer weather yet, and I am not putting sun cream on my children, just yet. I actually confessed this to a bevvy of parents in the playground the other day, and you would think I had confessed to animal sacrifice or being a nudist or something, the way everyone reacted. They all looked shocked and started telling me "but they will burn, they are out in the sunshine for so long at lunchtime"…
I am not anti sun cream and when the weather gets truly sunny (well, I can be optimistic, the British weather may come up trumps for us) and hot, I will of course send my children into school with sun cream on.
But right now, it's not that hot, and bar two weeks in Thailand, my children have spent the last 5 months wearing winter clothes and not getting much sunshine. I don't think half an hour in the playground at lunchtime is bad for them. In fact, I think it might be good for them actually. They aren't out all day, they aren't in burning sun, they aren't running around naked. It's ridiculous.
So, I am rebelling, and not telling anyone else. I did feel vaguely guilty and dig out their summer hats from last year, which are of course are too small and look ridiculous, because it hadn't crossed my mind that we would all be getting paranoid about sun exposure the minute the sunshine returned for spring and I haven't bought them new ones yet. I will make sure that when I think they really need sun protection that they have it, but for now, I am happy for them to get a bit of sunshine on their wintered skin and absorb some sunlight. I think a few more people could do with it too….
Maybe I am a bad parent, but it just seems a bit mad to me.
What do you think?