I must confess, at the moment, I am not getting that much time to sit down and read, for myself. I love reading, but it's rare for me to start and finish a book right now.
So when I was asked if I would like to read Lush in Translation by the amazingly talented Aimee Horton, I was delighted because I have read her writing before, so I knew it was highly likely I would enjoy them, but with the crazy busy of my life right now, the fact that it's a shorter book meant I knew I would be able to finish it. In fact I have actually read it more than once, pulling my Kindle out whilst on the train, in the bath and on my way to a meeting, and over my morning coffee before startng work. I have probably caused my fellow commuters some alarm, as I giggled away.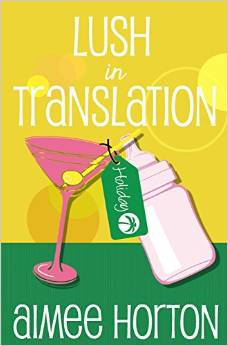 Aimee writes about Dottie Harris, who has gone from being a working woman, with no children, to parenthood and suddenly realising it's quite different and not at all what she expected. I think I like Dottie because she writes how most parents feel, with honesty, a sense of humour and sometimes despair, as she figures out how to manage life with small humans in tow. Of course, she likes to have the odd gin & tonic, so that resonates with me too.
Dottie is VERY British, and she feels this very much when her glamorous, pregnant, not really clued up on what parenting actually entails, American cousin comes to stay and get a taste of family life. Lush in Translation tells the story and gives anyone from the US a bit of a birds eye view of how things are the same but different. We use the same items, but call them different names, and it can be a source of confusion and amusement depending on your situation. As usual Dottie carries on with parenting, whilst trying to show her cousin that she has it all together, but if you are a parent you will know that the harder you try the more likely it is that your children will be trying even harder to make it seem that you really don't know what you are doing.
This story is funny, but also truthful look at parenting and that actually despite the style or language differences, we are all really just the same underneath the layers of nappies (diapers) dummies (pacifiers) and the occasional use of sweets (candy) to bribe our children (of course, I never do that 😉 ) and that parenting comes in all shapes and sizes and sometimes the only thing you can do at the end of the day is reach for a stiff gin and look forward to tomorrow.
So, I would highly recommend you visit Aimee's blog where you can find out more about her books, about her and also how to download Lush In Translation for free. I think you will enjoy it!