Welcome to our week in photos. The weekly dose of madness in photo form. There is usually cake, coffee and the odd grumpy cat thrown in for good measure…
This week has been a bit challenging. If you read our blog our follow us on social media, or even know us in real life, you know that we have struggled with sleep issues with my small boy, for a long time and we seem to have hit a bit of a regression again, in that area, so I am tired. I am currently writing a post on maternal guilt, so I will talk about that and the sleep, more later this week. In the meantime, life goes on. We have had a good, but busy week and we have eaten well too. I love cooking and feeding my family. We have also enjoyed the sun FINALLY coming out and my children have declared that summer has arrived…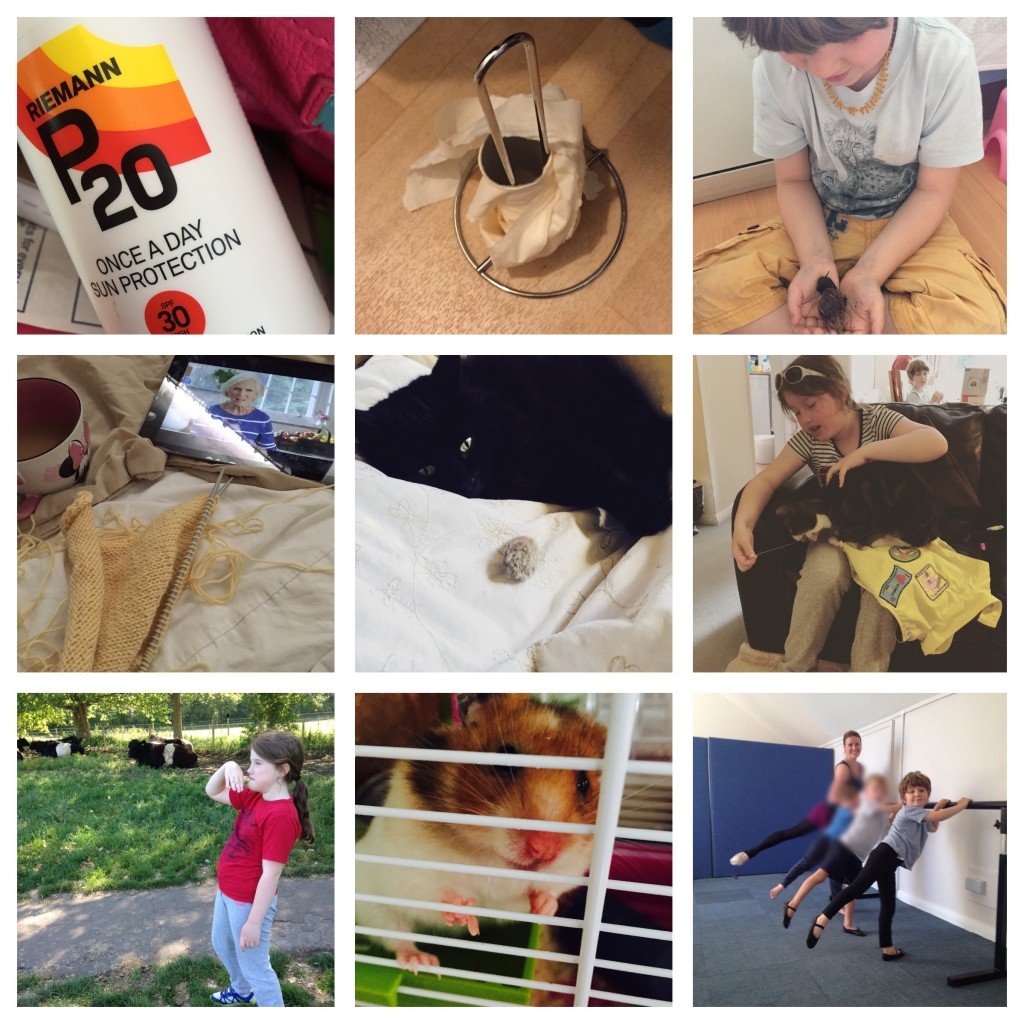 The sunscreen can finally come out, and be used
I am not sure what this toilet roll did to offend my children?
A boy and his snails. Albert is getting very big and loves being held and handled. His partner is a bit shyer.
Knitting, coffee and cookery programmes (I LOVE Mary Berry)
Grumpy cats and unhelpful cats
Big Girl does not approve of the natural odours from the local cows in the meadow near us. Cow poo is not her favourite thing
Nibbles had a birthday this week, she celebrated with dried sweetcorn and carrot flavoured chocolate drops, we know how to live it up, round here.
My amazing boy at his dance class. He loves it so much, and I think has potential
We have also eaten well this week:The TThe

My children are fruit bats. That was a whole punnet of blueberries, that vanished in about two minutes
Dried apples and salted caramel sauce are THE BOMB, you should try it.
Soda bread, home made, an experimental recipe, gluten and cows milk free. It worked really well. I will be sharing the recipe next week.
Big Girl had to cook and write a recipe for her homework this week, she makes an omelette that is better than mine.
Fresh asparagus, my favourite. I love it with simple sauce, or dipping it in a soft boiled egg. Yum!
Samphire. My new addiction.
Slow cooker chicken with pearl barely. I use the slow cooker a lot in the week, to get good meals on the table on the days I am working.
Gluten and dairy free toad in the hole, which I promise is amazing. My kids love it and ask for it often. It's my ultimate comfort food!
A homemade cupcake, from my friend Shelley, who makes all the cakes for our toddler music groups, with coffee of course..
So, that was our week. What have you been up to?