We are very excited about something that is going to make our lunch boxes a bit more fun, save me some money, and help me to make sure the children are getting healthy things to enjoy.
Super Squish pouches…

These reusable pouches, designed to be used from weaning age onwards are perfect for what we want to use them for. The children like to have a fruit smoothie in their lunchboxes and I like to try and make sure they are as healthy as possible. The branded smoothies you can buy are fine, but some do have quite a high sugar content, and they can be expensive.
Super Squish is perfect for us. They are easy to use, washble and can be frozen too.
We make our own smoothies and then pour them into the pouches, which have a really tough zip lock closure to prevent leaks and drips, and then I freeze them, overnight, then as I am making up the children's lunchboxes in the morning I take them out and pop them in. They defrost in time for lunch, and keep cool, and then I simply wash them and start again. Easy peasy, saving me money and they are also fun, as well as being sturdy and practical.
They are brilliant for when you are weaning your baby, you can make your own purees and decant them into the pouches for easy use, for travelling and convenience when out and about. They are also great for bigger kids for travelling too.
We thought we would share a little preview of ours in action, because next week we will be telling you more about them and we are delighted to be hosting a giveway too.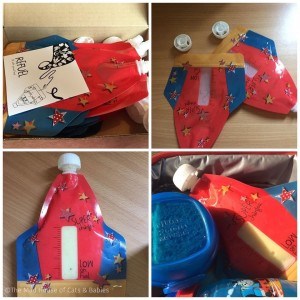 You can check out their Facebook page for lots of information, and videos & recipes too.
As you can see, they not only meet with my approval but Little Man's too…