In two weeks time, on my 39th birthday, my Big Girl and I will be running Race for Life, together. We are aiming to run/walk/jog (depending on how my knee behaves) the 5km race, and between us hoping to raise £250 for Cancer Research UK.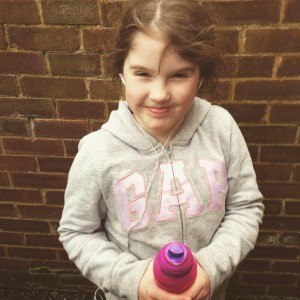 Emily, otherwise known as Big Girl, never met my mum, who died when I was 18. We talk about my mum a lot and there will always be a huge part of me that is sad and sore that my mum never got to meet her 3 beautiful grandchildren (my children and my nephew) whom, I am pretty sure she would have adored. My mum died of complications related to the treatment of cancer. 3 years later, we sadly lost my Mum's sister to cancer, too, and I have also lost two other good friends, to the disease. I currently know several very brave people fighting hard to recover from cancer too, one in treatment and one now in remission. Cancer affects so many people in so many ways, and we want to do our small part to help towards research to finding cures, improving treatments, and maybe, one day, a cure or a way to prevent it.
So, we are asking if people will sponsor us. I know there are always causes and charities asking for money, so even £1 would be amazing and would count. We appreciate and are grateful for every penny that will go to helping those who need it. We decided that spending my birthday raising money for such a worthy cause was a good way to slide into the last year of my 30's too. Little Man and LSH and hopefully some of my family and friends will be watching and cheering us on too.
I am looking forward to the challenge of 5km on a slightly wonky knee, with my girl. I think her Nana Eileen would be proud of her. We hope to make it round the course in one piece, and hit our fundraising target. You can help us by clicking on the link below, to donate. We will of course be sharing photos and I am sure I will be popping up on Twitter as we go round.
Emily & Karen are running Race for Life
Thank you.