We are delighted to be hosting Mini Creations for a spell. If you linked up to KidGLloves to share your children's crafting creativity, or you are new to Mini Creations and just want to share some amazing things that your kids have produced this week. This is the perfect link up for that.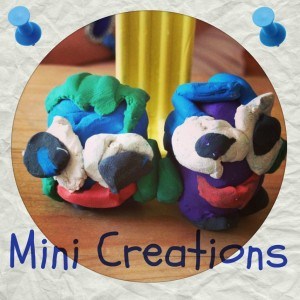 Kids does your Mum complain if you bring amazing art work home you made at nursery or school? Does your Dad put on a fake smile at the rocket ship with extra engines cleverly made out of loo roll? Do they roll their eyes at the spectacular playground you made from a cereal box? Have they run out of space on the fridge for your artwork? Then here is the linky for them…We are also happy to see crafting ideas your parents might want to share, reviews of things children and parents might love to help them get more creative or even recipes. Go wild, let loose and share.
In my "other job", I help to run toddler groups, locally. We have some lovely, quite busy groups and one of the things we are trying to do, is to include a fun and easy craft activity, each week, that the children can do, with the help of their parents.
Now, you all know that I am RUBBISH at crafts. It's just not my thing but I kind of need to get over this, and brush up my skills, make Pinterest my friend and also take any help where I can get from the lovely helpers who work with me at the groups.
I was super impressed with the craft that my friend came up with this week and the children loved it. We managed not to get too much glue everywhere and the results were very impressive.
The trick to crafting at toddler groups (and with toddlers generally) is easy, not too complicated, not too messy that it gets stressful, and make it fun and interesting.
These rather cute leaf hedgehogs were perfect. It's also an easy craft to do at home, your little ones can have fun collecting leaves to make the hedgehogs with.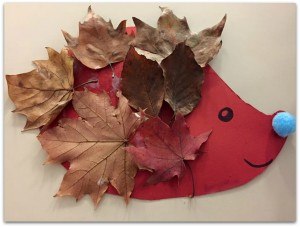 You can find out how to make them here but they are very easy. You need PCV glue, some paintbrushes, some hedgehog shapes cut out of cardboard, with a mouth and eyes drawn on, and some small stick on noses, you can use something like these mini pompoms, or you could get the children to draw noses if they want and you can have fun collecting nice autumn leaves to stick on.

If you would like to link up a creative effort from your children, please grab the badge, click on the linky button, add away, then share on Facebook or Twitter. Use the tag #MiniCreations and ping us a tweet @MadCatsBabies and I will share and come and have a look at all the lovely things our children are making.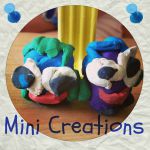 <div align="center"><a href="http://www.themadhouseofcatsandbabies.com" rel="nofollow" title="The Mad House of Cats & Babies"><img src="https://catskidschaos.com/wp-content/uploads/2015/09/mini-creations-1024x1024-resize.jpg" alt="The Mad House of Cats & Babies" style="border:none;" /></a></div>