Thank you Karen for asking me to write about how the International Elf Service came about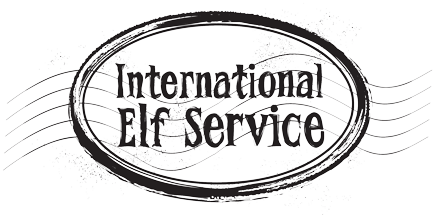 For those of you who don't know, I work for Father Christmas, our three kids don't know anything about it and I do it all in secret from my basement! They currently think I'm selling recipes because I'm always taking pictures of food for the 'Free-from recipe' section of my Blog.
I'm actually a registered Osteopath but I started the International Elf Service last year, because I wanted to share some Christmas Magic and give children a window into the magical, warm and cosy world of Christmas in the North Pole: a world full of Magical Wind Machines, Cinnamon Mines, inventions, baking, Sizzle Spots, chaos, excitement, laughter & unexpected friendships…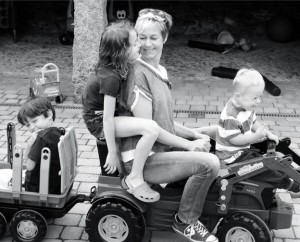 I've always wanted to know what REALLY happens in the North Pole on the lead up to Christmas and I drove my mum mad with all my questions! Christmas has always been my favourite time of the year and I love it all: the good mood everyone seems to adopt, the Christmas Tree, the whole magic of Christmas, Christmas crafts, the music, that cosy Christmas Eve feeling, the excitement, getting Christmas cards, the school plays, the smell of oranges, cinnamon & clove, the carols, the special food, lots of people in the house… I love it all. I'm not bothered about presents for me at all now and luckily neither is my husband, so we don't buy anything for each other. I just get so much out of seeing the kids' faces when they get swept up with the whole Christmas spirit: they always want to do every craft that's going and bake every Christmas cake, cookie and treat there is! Then there's the counting down the number of sleeps, watching the number of presents slowly increasing under the tree and waking up on Christmas morning and seeing if Father Christmas has been!
When our daughter was about to turn four and our eldest boy was two, I started writing little notes from 'Elfie,' one of Father Christmas' Elves. Elfie would leave notes in our Advent Calendar saying things like 'Ooh you'll never guess what: Father Christmas ate SO much plum pudding that one of his buttons popped off his jacket and we can't find it anywhere!' Each year the notes got longer until suddenly they formed one long story for the kids to follow through December until Christmas Eve. As soon as the kids were in bed, out would come the coloured pencils, glitter, stickers and anything else I could think of to decorate them. Then I started hiding the letters and putting a clue to find them in the Advent calendar, which caused so much excitement that we now have to have a rota for who gets to read the clue, who solves the clue, who finds the letter and who reads the letter…!
With Elfie now being a firm Christmas tradition, I wanted to see if other families would enjoy it too. I discovered Amee D'Souza, another mum in the playground who has a son in my daughter's year. She turned out to be a very talented artist and web designer! We worked together to find the loveliest most tactile recycled paper that would look and feel very different to 'normal' paper and design artwork to reflect Elfie's desire to draw even though Elfie's so SO busy in the workshop getting everything ready for Christmas. We've had to think through so many things, both on a practical level and in the story lines for both Elfie's Christmas Letters and the North Pole Christmas Letters, to make sure children see them as 'real live news.' The paper for example, looks and feels different to normal paper, so children won't think you've printed them out at home. We've extended the product range a little bit this year too, with other lovely Christmassy items and also Elfie's Birthday Letters. Whenever the elves hear about someone's birthday up in the North Pole, they have a party and absolutely HAVE to write to the birthday boy or girl and tell them all about it J.
Last year was our first Christmas and we had so much lovely feedback. Apparently children were writing to Elfie randomly through this year, which I love! This year we're hoping more families will enjoy this new Christmas tradition and as it's just me preparing all the orders, I'm hoping people will order sooner rather than later so I can manage them all J
International Elf Service: http://internationalelfservice.co.uk/
The Shop: http://internationalelfservice.co.uk/shop/
Facebook: https://www.facebook.com/internationalelfservice
Twitter: https://twitter.com/IntElfService
Instagram: https://instagram.com/InternationalElfService/
Instagram: www.instagram.com/selfiewithelfie – FOR CHILDREN!
Google + https://plus.google.com/u/0/+InternationalElfService/posts
A note from us:
We are very excited (well I am, the children will be when they get their first letter) about International Elf Service. It's such a fun thing for Christmas and the lead up to the day. We will be sharing our review next week and a giveaway of a set of letters too, so watch this space. Ho, ho ho…