Getting kids to eat healthily sometimes can be a struggle but it doesn't have to be.This collaborative post has some great tips and ideas.
Getting children to eat their greens is an age old struggle that most parents are familiar with. When it comes to healthy eating, often, kids can be a little bit picky about what they do and don't want to eat. For us mums, this can be extremely frustrating, as we know how important getting their five a day is for their growing bodies.
While it can sometimes seem like little ones, and healthy foods don't go together, that's not the case. Believe it or not, by making a few small changes to the way you present healthy foods to your kids, can make the world of difference.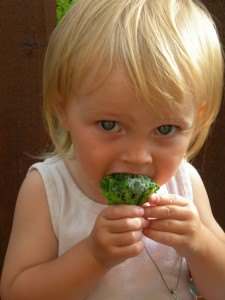 Pack snacks
Far too often, when we are out and about, we ended up feeding our children unhealthy snacks. This tends to be because we aren't prepared with a healthy alternative. However, that doesn't have to be the case.
Before leaving the house, prepare a few healthy snacks for your child and pop them in a cooler bag. Keep your cooler bag stocked up with carrot batons, hummus, and yogurts, as well as a bottle of water. That way when you're out and about and here the inevitable, 'Mum, I'm hungry', you have a healthy snack to hand.
Hide veggies in delicious homemade meals
If the kids refuse to eat vegetables with their food, you need to get creative. Instead of trying to force them to eat their veggies, find ways to hide them in their food, so that they eat them without realising.
This is actually, much easier than you would think. Swap from shop bought jars of sauce to making your own – you can blend various veggies into them without your kids suspecting a thing. Serve homemade chicken soup packed with vegetables – the children will have no idea that the soup is more veggies than it is chicken.
Buy good-quality food
If you want your children to be healthy, you need to buy the best quality food that you can afford. Teaching your little ones about being healthy isn't just about eating their greens. It's also about choosing better quality food and ensuring that their diets are packed with all the nutrients they need.
When it comes to buying fruits and vegetables, organic is the best option. With meat, buying from a reputable butcher is a good idea, as that way, you know the meat is of a good quality. If you don't have a butcher near where you live, consider ordering from an online butchers, instead.
Make fruit dessert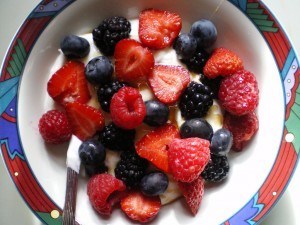 If you serve your children cakes and ice creams for dessert, they'll come to expect sugary treats. Instead of sugar-filled desserts, get creative with fruit-based puddings. When it comes to fruit, there are so many fantastic things you can do with it.
Serve chopped fruit with yogurt dips – kids love dipping foods. Pop chopped fruit in the freezer, then blend up to make homemade sorbet. Blend fruit and yogurt together, freeze and create homemade frozen yogurt for your little ones to enjoy. Chop up some fruit and stew in a pan, and serve with your child's favourite yogurt.
While it can sometimes seem impossible to get children to eat healthily, it doesn't have to be. By making a few small changes to what you serve your kids, you can make getting healthy foods into them, much easier.