We are delighted to be hosting Mini Creations for a spell. If you linked up to KidGLloves to share your children's crafting creativity, or you are new to Mini Creations and just want to share some amazing things that your kids have produced this week. This is the perfect link up for that.
Kids does your Mum complain if you bring amazing art work home you made at nursery or school? Does your Dad put on a fake smile at the rocket ship with extra engines cleverly made out of loo roll? Do they roll their eyes at the spectacular playground you made from a cereal box? Have they run out of space on the fridge for your artwork? Then here is the linky for them…We are also happy to see crafting ideas your parents might want to share, reviews of things children and parents might love to help them get more creative or even recipes. Go wild, let loose and share.
I loved these Ghost Eggs that Adventures of Adam shared, with us in our last Mini Creations, and I think we will be trying to make our own granola, with the recipe that Just A Crafty Mama shared. Thank you for linking up.
I am handing over to Emily, who is going to share about something that is happening in her life, right now.
I'm Emily, I am almost nine. In a few weeks, I have a big exam. It's called a Grade 1 exam, because I have been learning to play the violin, and my teacher thinks it's time I took my first exam to see how well I am doing.
I am a bit nervous, because I have never done an exam before, like this, and I have to dress smartly (which is nice because Mummy says she will take me shopping to choose something new to wear) and I have to know 4 pieces of music and be able to read the musical notes and play them without help from my teacher. I have been practicing a lot, at home and at school with my teacher, and I know all my scales and what the symbols mean.
This is my favourite piece that I have to play. This isn't me playing but I hope that I sound as good as that. My teacher says that I should be able to get a good mark in my exam, and my mummy says that I have been working hard and she is proud of me, and I just need to to my best and she is sure I will pass.
I have to go to a practice exam next week, to get me used to where I will be playing and being in front of people I don't know, and so my teacher can tell me anything I need to work on. Mummy says she will take me for a hot chococlate afterwards and I get to miss half a day of school. My friends think that's not fair, but they don't have to do an exam!
Wish me lots of luck.
Love from Emily x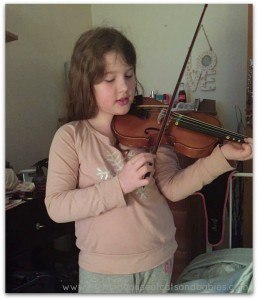 If you would like to link up a creative effort from your children, please grab the badge, click on the linky button, add away, then share on Facebook or Twitter. Use the tag #MiniCreations and ping us a tweet @MadCatsBabies and I will share and come and have a look at all the lovely things our children are making.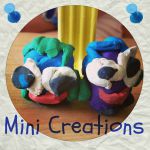 <div align="center"><a href="http://www.themadhouseofcatsandbabies.com" rel="nofollow" title="The Mad House of Cats & Babies"><img src="https://catskidschaos.com/wp-content/uploads/2015/09/mini-creations-1024x1024-resize.jpg" alt="The Mad House of Cats & Babies" style="border:none;" /></a></div>