Christmas is coming and there is much excitement in the house, with thoughts of gifts for each other and surprises in store. I have been doing a bit of shopping, and sending some subtle hints via the children for what I would like to appear in my own Christmas stocking this year (and I think I have mostly been good! 😉 )
We are a family that deals with food intolerance, in the form of a milk allergy, for LSH and my boy, as well as a gluten intolerance. So when I am trying to find sweet treats for stockings, it can be a bit tricky to get things that they can eat safely and enjoy.
Hotel Chocolat is one of my favourite places to source goodies all year round and they do some amazing chocolate gifts to suit all budgets. Both my boys, the big and the smaller love dark chocolate, (that contains no milk solids) and I've found lots of treats for them for Christmas from their selection. Getting them to not eat it all in one go is usually my most serious problem.
Their giant slabs make amazing stocking filler gifts, and they have a variety of flavours and ingredients to suit all tastes. They are perfect for someone who loves chocolate, but you want to get something a little different from the usual boxes, for teachers, or as a treat for yourself.
We are delighted to have a Fruit & Nut Frenzy slab to giveaway to one lucky chocolate loving winner.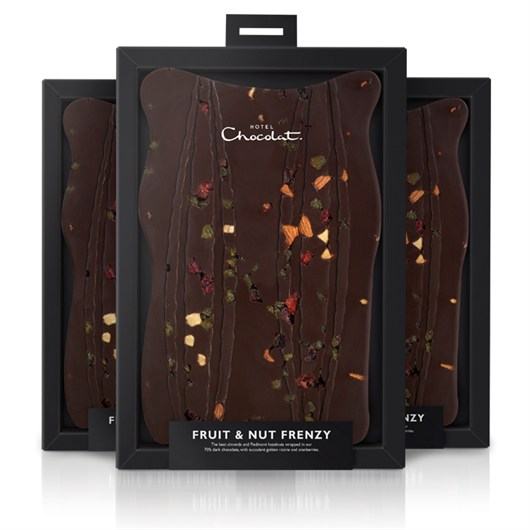 "Succulent golden raisins and cranberries and incredibly crunchy almonds and Piedmont hazelnuts wrapped in 70% dark chocolate". It's suitable for vegans which means it's dairy/cows milk free, so it's perfect for someone with a dairy or cows milk allergy or intolerance. (So both my boys will be getting one in their stocking)
To enter to be in with a chance to get your hands on 500g of chocolate goodness, we want to hear what would be your ideal stocking filler, chocolate or otherwise, so leave a comment on this post, and then you need to click on the Rafflecopter link and and follow the instructions.
a Rafflecopter giveaway

Terms & Conditions:
UK entrants item will be posted, but outside of the UK postage will need to be arranged.
Giveaway ends on Thursday 17th December and item will be posted in time to arrive for Christmas (within the UK)
All entrants must complete entry requirements.
No cash alternatives available.