Welcome to 12 Days of Parenting – A series of blog posts by a lovely group of bloggers, leading up to Christmas, with all sorts of themes, tips and ideas to survive the festive season with small children in to as well as some great sponsored posts and giveaways.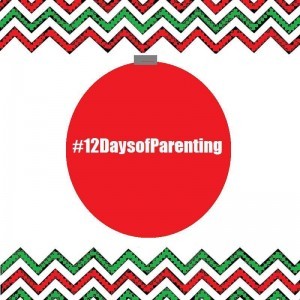 Helen from Kiddy Charts has shared and now it's my turn…
To be honest, for me Christmas has often been a bit of a hard time, emotionally, because sadly, my mother died when I was 18, on Boxing Day. Christmas for a long time, after that was a difficult thing for me to enjoy, because I missed her and wanted her to be there, doing Christmas the way she did, for our family.
In a way having children, has been healing for me, although in the background there is always a slightly sore spot, wishing that my mum could be here to see her amazing grandchildren (mine and my lovely nephew) and be part of the festivities.
I am actually not a huge fan of massive Christmas day celebrations, with lots of people in the house, and cooking, chaos and cleaning up. I love feeding people and making things nice for everyone, but I also like to enjoy things too and also make things fun for the children. I/we spent a lot of time trying to make Christmas into what other people wanted, which isn't a bad thing, but now we try to make Christmas enjoyable for us, as well. I don't get grumpy about too many things I want for my Christmas, but one of them is a real Christmas tree, because I personally don't like fake ones.
We like to have a mix of traditional Christmas, with carols and church on Christmas morning, then seeing family where possible (now that my Dad is in Bangkok and LSH's parents living in South Africa) or Skyping/Facetiming family.
We get up early, because, well, Matthew gets up early. The night before Christmas we let the children open one present, then they hang up their stockings and leave treats for Santa and his Reindeer, and then once they have gone to bed, the adults do a mad wrapping and preparation session.
We usually have friends over or go to thier house on Christmas Eve, so I try to plan my Christmas cooking so that I am not stressed on the day. I do remember my mother being very stressed about cooking Christmas diiner, and I try to manage that better, myself.
We don't have turkey. I do not like turkey, and it's a pain to prep, cook and then figure out what to do with it's leftovers. We generally take a vote in the weeks before Christmas as to what we do actually want to eat on the day (this year my boy wanted Frankfurters and chocolate for Christmas dinner, and can't understand why that isn't everyone else's ideal menu 🙂 )
We try to make Christmas relaxed and fun. I think that's my main thing. I don't want it to be too formal, or stressful, for anyone. We want to eat, enjoy each other's company, share some love and some presents, and watch a bit of cheesy Christmas TV (and always, Dr Who, and the Queen's speech, those are very firm traditions)
I used to have visiosn in my head of a perfect Christmas Day, with the house immaculate, with a straight out of a magazine Christmas tree and decor, my children being angelic, dinner all timed perfectly and no cooking disasters, guests all behaving themselves and it all being like a Hallmark movie. Of course, in reality that never happens and I am good with that. I just want to be with the ones I love, remember those that can't be here with us. and have a relaxing time, and be able to eat, drink, be merry, and most of all enjoy it. Enjoying the day is the most important thing.
Don't forget to hop along to The Mummy Balancing Act to find out how Christmas has changed for them now they have children.
and click on the Rafflecopter link to enter a fabulous giveaway.
Our codeword is: glitter
T&C and general information can be found here