What the cats want for Christmas?
So the humans are getting excited about something called Christmas. We have no idea what it means, but it seems to involve people coming to the house, a tree, sometimes a real one, sometimes a plastic one, appearing in the living room, covered in lights, and sparkly things, which we are not allowed to attack or try to climb either way, so it's a bit pointless, really and the humans go a bit mad and buy each other presents and make a mess, eat lots of food that makes them grumpy with indigestion and that they refuse to share with us, and they get us catnip toys. None of it makes much sense, but it all seems to (mostly) make the humans happy, so we go with the flow and let them enjoy themselves, even if they do look stupid in silly hats and Christmas jumpers.
So, we decided to write a letter sharing what we would REALLY want for this thing called Christmas…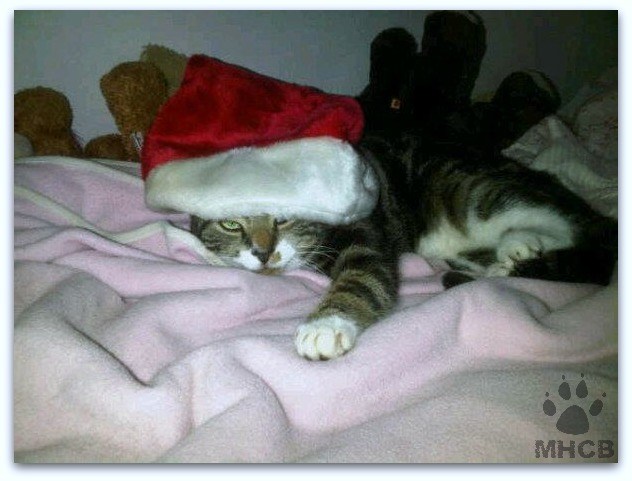 We would like a break from cat food, and some human food for a treat. Layla would like a tin of tuna, and a bowl of cream, and a few small tastes of chocolate cake. Jasper would like to be able to eat anything he wants, for a whole day, because he knows that the humans have a stash of the special indigestion pills the vet prescribed him after his last dustbin diving induced stomach upset.
Unfettered access to the fish tank (Layla) and the hamster cage (Jasper) and not to be told off, or sent outside in disgrace. We are hunters, after all, and we want to act on our instinct.
Hot water bottles in the human beds, but not for the humans. We cats need to be kept warm and cozy, you know…?
For the small, noisy humans to never bring friends round to play. We just about tolerate the ones that live in this house, and then the adult humans take it upon themselves to invite more of them around, and the shrieks of "kitty" and being chased by dribbling, wobbly small humans who want to pull our tails is just too much for us to cope with. We don't like it, it needs to stop.
If you are going to buy us kitty treats, please don't get catnip advent calendars. Neither of us like catnip. If you could get ham flavoured treats for Jasper, and cheese flavoured ones for Layla, that would be lovely.
All leftover Christmas dinner can be passed our way, except that horrible stuff you call "Christmas pudding" and definitely not the sprouts. Jasper's digestive system is gaseously challenged at the best of times, sprouts would finish everyone off…
Oh, and if Santa could leave Layla a toy mouse and Jasper a toy hamster, to chase when you won't let us at the real thing, that would be lovely too…
Love from Layla & Jasper x Miaow!