There are lots of lovely and fun things in the run up to and during the festive period, but one of them for me, that has been a tradition, since I moved to London almost 20 years ago, is a trip to see a proper pantomime every year, around Christmas time. Pantomime or panto for short is a rather peculiarly British thing, and they are usually lots of fun. Trying to explain to someone who has never been, exactly what to expect and what will be expected of them, as the audience, especially if they don't really know what a pantomime is, is always interesting. You have men dressed up as ladies, usually in outrageous costumes, there is always a Prince or Princess looking for love, a bad character determined to thwart that, and various antics that culminate in true love winning and all the baddies being put properly in their place. Lots of audience participation is a must, and you will be asked to clap, sing along, shout out at the right moment, and generally it's not a staid trip to the theater. Children and adults alike enjoy it, and I LOVE it.
We had a huge treat. being able to go and see Cinderella, at Fairfield Halls, in Croydon. It was the perfect post Christmas pick me up.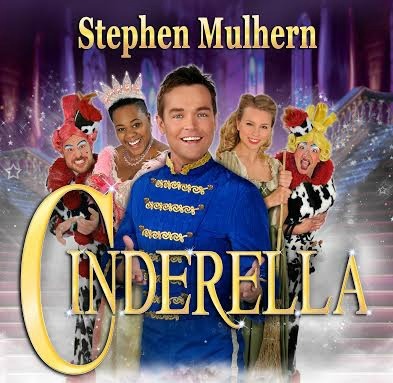 Starring Stephen Mulhern and a few other familiar faces, this version of Cinderella had the adults in tears of laughter, and the children bouncing in delight. The characters were larger than life as they should be, and Stephen, as Buttons, was charming, endearing, incredibly funny, and made things come to life. The Fairy Godmother kept us all on our toes, and Cinderella and the Prince Charming made everyone oooh and ahh when they finally were united over a sparkly shoe.
Without giving away too many spoilers, there were so many good bits, that it's hard to choose what was a particular favorite. I personally liked Buttons and The Ugly Sisters with their mind blowing many fabulous (and eye watering) costume changes, the children loved Buttons and the Fairy Godmother and my husband, who has never been to a pantomime before (shocking, I know, but he didn't grow up in the UK, so we will let him off) laughed all the way through and sang along with gusto (and he never sings!) There were lots of jokes, lots of camping it up, the obligatory "oh no it isn't, oh yes it is, it's behind you" skit, and plenty of hilarity, jolly songs and of course, boy wins girl, and everyone goes away happy at the end.
Pantomimes are perfect for all the family, from young to old, and this one was a brilliant first for us as a whole family. If you can go and see this one, we would definitely recommend it. You won't be disappointed. I am already looking forward to next years and making it one of our family traditions.
*We were treated to see Cinderella, as a family, but all opinions are our own. Media images used with permission*